During the week-long purgatory that comes between December 25 and January 1, famous Americans I would normally be writing about are—by and large—doing boring, out-of-the-spotlight activities like spending time with their families. Plenty of other newsworthy things are obviously happening in this world, but do you really want to hear what I of all people have to say about Donald Trump? Or armed conflicts? Or climate change? Folks, the answer is no, so please allow me to spend time in this squeaky, unoiled wheelhouse of mine for as long as I possibly can.

Because this morning's story about J. Lo and Drake potentially being an item all but dried up our nation's typically plentiful supply of celebrity news, I've been forced to swim across the pond to replenish it. After spending 45 baffling seconds scrolling through the incomprehensible collection of nouns and verbs on The Daily Mail's UK Showbiz site, my eyes were drawn to this 700-point font question mark of a headline:
I'd love to tell you who Leigh-Anne Pinnock is, but I'm afraid any Googling I do to answer the question will just direct me to the Wikipedia pages of weird British reality shows with names like "Hammin' In Nottingham" or "Queens of Kings Cross" and lead to even more confusion, so I must allow her to remain a mystery.
Similarly, I want nothing more than to give you a detailed account of why Andre Gray cozying up to Pinnock in a Snapchat video is in any way worthy of your attention and time, but all I know for certain about him is that he is currently alive and was, in the very recent past, cozying up to Leigh-Anne Pinnock. "Burnley striker" should hypothetically answer some questions, but I'm not sure whether that's a sports-related profession or some kind of insulting British slang.

G/O Media may get a commission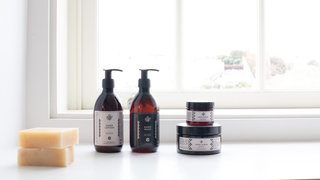 Exfoliate and Hydrate
The Handmade Soap Company
So, I don't know, look at this photo of them cozying up together in a Snapchat video. Maybe it'll do something for you. See if I care!