In case you thought us lowly poors who shop at Target were the only ones who needed to worry about this whole credit card hacking thing—think again! Neiman Marcus—the Charlize Theron of upscale retailers—just admitted they are the latest store to have customer's credit card info fall victim to hackers.
Coming on the heels of the hacking disaster that hit Target earlier this month, Neiman Marcus' announcement is a reminder that it's not just an isolated incident targeting one particular retailer:
Ginger Reeder, spokeswoman for Dallas-based Neiman Marcus Group Ltd., said in an e-mail Saturday that the retailer had been notified in mid-December by its credit card processor about potentially unauthorized payment activity after customer purchases at stores. On Jan. 1, a forensics firm confirmed evidence the upscale retailer was a victim of a criminal cybersecurity intrusion and some customers' credit and debit cards were possibly compromised.
The retailer would not give specific numbers about just how many of it's customers were impacted, however it did indicate they were being notified of the breach.
Here's the company's complete statement, minus the layer of diamond-encrusted tears it came delivered with:
"Neiman Marcus was informed by our credit card processor in mid-December of potentially unauthorized payment card activity that occurred following customer purchases at our Neiman Marcus Group stores.

We informed federal law enforcement agencies and are working actively with the U.S. Secret Service, the payment brands, our credit card processor, a leading investigations, intelligence and risk management firm, and a leading forensics firm to investigate the situation. On January 1st, the forensics firm discovered evidence that the company was the victim of a criminal cyber-security intrusion and that some customers' cards were possibly compromised as a result. We have begun to contain the intrusion and have taken significant steps to further enhance information security.

The security of our customers' information is always a priority and we sincerely regret any inconvenience. We are taking steps, where possible, to notify customers whose cards we know were used fraudulently after making a purchase at our store."
G/O Media may get a commission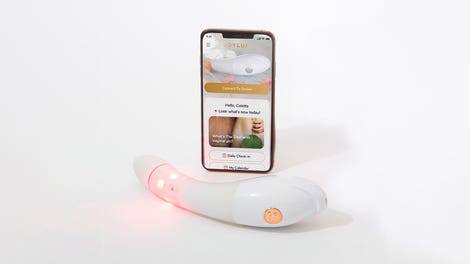 $50 Off
Joylux vFit Gold Device
OK, so for those of you out there reading this who actually have Neiman Marcus cards because you can afford to shop there, heads up! BTW, all this credit card hacking has made me sort of grateful for the fact that most retail financial departments scream with maniacal laughter whenever I try to apply for credit with them. Oh well. At least I still have my trusty Dave & Buster's Power Card.
Image via Getty Images