Fashion photographers Inez van Lamsweerde and Vinoodh Matadin shot Lady Gaga in a video for Mugler — Gaga apparently could not make an appearance at the women's wear show, as she did last season. (Her stylist Nicola Formichetti is the creative director of the newly relaunched brand.) The video seems to focus on teeth, and Gaga says things like, "Do not anger the mugler woman she will eat you," and repeats "Don't fuck with Mugler," while staring at the camera. [YouTube]
The Mugler collection is getting slammed by most critics. The Associated Press wrote: "The alchemy was off at the house of Mugler, where Lady Gaga's stylist, Nicola Formichetti, again failed to live up to his reputation as a sort of Generation Y Midas who turns everything he touches into gold." Key terms: disappointment, fizzled, less-than-convincing, willfully wacky, "buzz does not a fashion house make." [AP]
Women's Wear Daily just called it "Bland." [WWD]
And Christina Binkley of the Wall Street Journal wrote, "It was a melange of the trends of the past 15 years: Beige from 2010, articulated shoulders from 2009, gothic, asymmetrical cuts from Helmut Lang." [WSJ]
Meanwhile, Lady Gaga is suing a company that sold jewelry and cosmetics under her name and tried to register "Lady Gaga" and "Lady Gaga Fame" as trademarks. [WWD]
Ana Gasteyer Satirizes the Girl Boss in 'American Auto'
---
Scott Schuman (of The Sartorialist fame) had some choice things to say about Tavi Gevinson in a new interview. Schuman expresses doubts about the real size of her audience, and calls her success "a bit of a conspiracy by established print media that wanted to show that this blog thing is not that important, that it's done by a bunch of twelve year olds." Schuman says Gevinson is limited in her perspective because "she has never had a boyfriend or any of that kind of stuff. She's just a kid, so she can talk about art and stuff only in an abstract way." Oh, and she "steals" her photos. (We're pretty sure Gevinson has hired a lot of photographers to shoot for Rookie.) Schuman also casually mentions thathe makes "a good fraction of a million dollars: more than a quarter million and less than a half a million" from advertisementson his blog alone. The problem with Schuman, as revealed every time he's ever opened his mouth in the presence of a reporter, is this: he's a good photographer who has absolutely zero gift for written or verbal communications — and worse, he seems to have no sense of the value of skills he does not personally possess. Does he even realize he sounds like a 43-year-old braggart talking about how much richer and more successful he is than a 15-year-old girl? [The Talks]
---
G/O Media may get a commission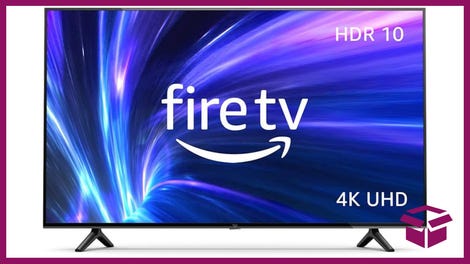 42% Off
Amazon Fire TV 50" 4K Smart TV
Apparently, "A Streetcar Named Desire" is known as "Un Tramway" in French. Oh, and also, some benches collapsed at the Balenciaga show, "with some editors falling flat on their backs." Carine Roitfeld, invited to Balenciaga in a sign of rapprochement for the first time since that incident involving the samples, fell "with a bump." So everyone had to stand to watch the show, meaning those not in the front row probably saw none of it. In other news you can use, Salma Hayek tore some ligaments in her ankle, then twisted it again, and is now bandaged up. You can see the bandage in this photo of Hayek, who's watching the show alongside her husband, François-Henri Pinault, Catherine Deneuve, Anna Wintour, Grace Coddington, and Hamish Bowles. [WWD]
---
Seventeen-year-old Wichita-raised model Maria Bradley debuted at Alexander Wang, walked Proenza Schouler, and did exclusives in Milan and Paris for Versace and Balenciaga, respectively. Here's what she says about her childhood: "My mom did anything and everything for the family — she is always there for us. I know everyone says they want to be like their mom, but once, when I was younger, I even went as far as cutting my hair, just so I could be like her. Except afterward, I hid it in my play kitchen and blamed my dog for cutting it." She says the "craziest" thing she's seen backstage so far is "Forty pairs of mangled model feet." [The Cut]
---
Lindsey Wixson, the 17-year-old model from Kansas, is rumored to be dating 24-year-old Theo Wenner, Jan Wenner's son. Here he is pictured with his arm around her. [Fashionista]
---
Andrej Pejic has been invited to Buckingham Palace to meet the Queen. Palace officials say Pejic can come dressed however he wants. "The recommended dress code for receptions at Buckingham Palace is Day Dress/Lounge Suit. However, this is for guidance only and guests are welcome to wear whatever they feel comfortable in." That goes some way to explaining Lady Gaga's red latex bondage suit, then. [Frockwriter]
---
Two "palace sources" think that Kate Middleton will eventually let Mario Testino shoot her for Vogue. [E!]

Sidney Toledano, the C.E.O. of Christian Dior, says on the question of who will replace the fired John Galliano, "We will have news in the next few weeks." Reports the Telegraph's Lisa Armstrong:

Has the appointment been made? Silence, not even a twitch. Will it be Marc Jacobs, as widely anticipated? If so, what will be the ramifications for Louis Vuitton, Jacob's current home and LVMH's greatest cash cow? A pause. Then, "There is an old proverb, those who don't know, speak loudly. Those who know, stay silent." He remained silent, then slipped away for a meeting.

Meanwhile, people are going to La Perle, the bar where John Galliano made his infamous racist rants against other patrons. "After what happened with Galliano, this place was a must," explained one American tourist. The owner of the place, who is of Jewish and Armenian heritage, seems ill-at-ease about the new business — and the attention the place started getting right after the incident hit the headlines. "I was torn apart after what happened. We were put into the same water as Galliano. We got so many angry, insulting calls and messages — people accusing us of being a 'Fascist' place. I have people of all origins working here, and we were all really shaken up." Meanwhile, the Times says the food is "mediocre" and the men's bathroom is "an often-clogged Turkish toilet without a door." [NYTimes]

The Brazilian Ministry for Women is seeking to ban those horrible ads for lingerie where Gisele Bündchen makes jokes about women being bad drivers who spend all their husbands' money all the time ha ha ha. [News.com.au]

Tyra Banks: "There was one girl at Barnes & Noble Union Square who just started crying, she could hardly talk because she said her forehead was big and she feels so insecure about it. But me having a big forehead helps her every single day." Banks says "a lot of people" are calling her the "teen Tony Robbins." Tyra, nobody is calling you that. You made that up. [OK!]

Tunisian Hanaa Ben Abdesslem and Moroccan Hind Sahli, both Muslims and both very successful models, talk to Robin Givhan about their families and their work. "In New York, a lot of people are thinking I'm wearing the burqa, the veil, everything," says Ben Abdesslem. "I want to give a good example of the Arab woman." Sahli: "Everyone in America thinks Muslims are dangerous. But that's not the truth. [Terrorists] are crazy; that's not religion at all. I'm a Muslim girl. I'm tolerant. My country is not a bad thing at all." [TDB]

Kate Moss went to a photo shoot for Rimmel London "dressed demurely" in pants — but then the stylist had her change clothes and put on a short dress. Incredible! Who would have thought that models don't get to wear their own clothes in ads? Because the shoot was in a public place, a construction worker called out "Kate you're hot but your arse is hanging out!" Moss is said to have "stormed off" the set, but maybe they'd just gotten the shot? [Metro]

Local Blogger Has Dream Come True: "'I sat down with Karen a year ago, almost to the day, and she said, "What's your dream project?" and I said, "I want to be in a T .J. Maxx commercial,"' Ms. Calla recalled." [NYTimes]

A lady photographer who goes by the name of Harvey Van Toast went to the premiere of a series of short films about breast cancer. Van Toast was naked from the waist up, with curly blonde hair and a penciled-in Dali moustache. "I love New York, I love New York!" said Jeanne Tripplehorne. "Where is she now? The lady without the shirt. Did she get arrested? Oh, no, there she is. Hey, I think it's fabulous. I'm assuming it's for the cause and that she's not just a crazy person," said Patricia Clarkson. This is what it was like:

On the carpet, Lyndsy Fonseca, of the CW series 'Nikita,' was discussing her turn in the TV movie. "I felt a lot of responsibility with this role, because not a lot of people are aware that younger people do get breast cancer. My character is the youngest person in the film to get it and — is that woman across the street naked? She is. Maybe she's a survivor... Like, 'hey there, look at these babies!'" Fonseca considered the apparition that was Van Toast, who in turn snapped her photo. "I mean, it affects everyone so widely." Fonseca continued, blinking, "So, you know, get a mammogram. Everyone! Get mammograms!"

[WWD]

Louise Wilson, who heads up the fashion M.A. program at Central St. Martins in London, was asked how her students have changed since she began teaching. She replied, "I think the students work harder than we ever worked, but they have to because a lot of them haven't got the skills that the old courses trained people in. The dynamic hasn't changed — they've always been poor, they've always been untalented and then become talented, and they've always been insecure. At some point, they become people you want to know because you've worked with them and then they leave and you start with another group. They have less skills now though, and I don't care who hears that — they outsource more. When you talk about people like Lee McQueen or Christopher Kane, they did everything themselves — with no money, they could generate whatever they needed to." [D&C]

Fatima Siad, of America's Next Top Model fame, walked for Dries Van Noten, which is a huge coup for any model (the show is cast by superagent Russell Marsh). In recent months, Siad has done editorials for Arise and American Marie Claire. [The Cut]

Cathy Horyn loved Raf Simons' spring Jil Sander collection. "This may have been Mr. Simons's sexiest collection for Jil," she writes, with "a firmly modernist view expressed in almost every detail." Inspirations include the Tati film Mon Oncle. [On The Runway]

Despite middling financial results recently, Uniqlo is expanding. Three new major new stores, including one that at 89,000 square feet will be the chain's largest ever, will open in New York and London within the next month. And the company is looking for spaces in Chicago, Los Angeles, and San Francisco. "Everybody's focusing on style and trend today," says an executive vice-president. "Our focus is on quality, functionality. We respect each person's style and provide him or her with the tools to make their own style." [WWD]

Fellow fast-fashion retailer H&M reported profits that fell by 15% year-on-year during the third quarter, to $564 million. [WWD]

And now, a moment with Carine Roitfeld. The ex-editor of Vogue Paris is planning her return to magazines:

I could call it Carine Roitfeld in the manner of Oprah Winfrey, and put myself on the cover every month like she does, but I'm not sure if this is what people want.