French Vogue editor-in-chief Carine Roitfeld's shock announcement that she's leaving the magazine has spurred one juicy rumor: that she was fired. As the story goes, luxury brands were threatening to pull their advertising, and so Roitfeld was pushed out.
It could be seen as curious that Roitfeld departed what would seem to be a dream position — she had near-bottomless Condé budgets, unassailable fashion cred, and great creative freedom — so suddenly. And "fashion magazine editor" is not a position with a history of job security (just ask Grace Mirabella! or Diana Vreeland! or any fashion editor with half a wit, ever). So perhaps the emergence of a "she was fired!" counter-narrative was inevitable.
Seemingly on the "she resigned" side of the ledger are these facts: Roitfeld had been at Vogue Paris for ten years, had worked with virtually every top photographer and designer to create some of fashion's most enduring imagery (link NSFW), and she recently celebrated her magazine's 90th birthday, a milestone of which Roitfeld says, "When we published our 90th anniversary issue in October, it felt almost like a double anniversary for me. I knew I wasn't really going to stay much longer. I think it's good to get out while you're ahead." And Roitfeld will now be able to double or perhaps even triple her Condé Nast salary by consulting and styling for luxury brands. (There were rumors that Roitfeld consulted on the side for brands including Max Mara while she was at Vogue Paris, but she denied that "firmly" to Women's Wear Daily today.)
Roitfeld herself says, "I'm surprised I even stuck it out this long, but what made me stay is having a boss like Jonathan [Newhouse], who is an incredible man who gave me total freedom, and God knows I pushed the boundaries."
G/O Media may get a commission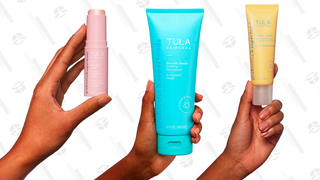 According to Racked:
It appears that the Conde Nast-Carine Roitfeld fall-out was a long time coming. Our sources tell us the magazine's parent company was unhappy with all the bad press surrounding Roitfeld's alleged pay-for-play scandals — this year, alone — demanding huge sums of money for extracurricular consulting gigs and the enormous, public embarrassment of being banned from Balenciaga last season for abusing her position at Vogue. In the latter case, Roitfeld allegedly borrowed Balenciaga preview pieces and sent them to her client, Max Mara, to copy — "It wasn't the first time," one source tells us. "One [Balenciaga] precollection ended up, in its entirety, at Max Mara."
Of course, there were also rumors that the Vogue Paris/Balenciaga ban was fallout from the departure of Marie-Amélie Sauvé from her position as an editor at the magazine. (Sauvé was simultaneously a consultant for Balenciaga, and supposedly when the magazine broke with her, Balenciaga stopped lending to VP out of fealty to its most important freelancer.)
Racked goes on to report that, according to anonymous sources, Louis Vuitton Moët Hennessy Chairman and C.E.O. Bernard Arnault "allegedly threatened Condé Nast International Chairman Jonathan Newhouse with the removal of all LVMH ads from the next issue of Vogue Paris." Apparently, Arnault was upset that Roitfeld included too few editorial credits to LVMH brands (Roitfeld said in the past that she felt advertisers' influence was too constraining). According, again, to one anonymous source, Vogue Paris staffers were told of Roitfeld's departure via email — an email which referred to her leaving as a "mise à pied," or a firing.
One thing that may cast doubt on this version of events is the fact that the French employment law makes it extremely difficult to fire an employee in that country. French employers can and sometimes do, however, get around the law by taking measures they know will "encourage" an unwanted employee to resign.
Meanwhile, who are the candidates rumored to be in the running to succeed Roitfeld?
As for Roitfeld's own future, her longtime friend and collaborator Tom Ford told the Times fashion writer Cathy Horyn that he and Roitfeld have no plans to work together again at present. (There had been plenty of speculation that Roitfeld might walk into a position at Ford's new women's wear division.) "It is nothing that we have even discussed," says Ford, "but of course I think she is brilliant and we are close friends so who knows about the future."
Meanwhile, Givenchy's Riccardo Tisci said, "Carine is completely unique. She has a revolutionary way of working, and her influence is and will continue to be present at every level of the fashion industry. She is one of the most courageous, elegant, avant-garde and bold women — a true visionary."

Tom Ford Responds To Roitfeld Speculation [On The Runway]
Rumor: Was Carine Roitfeld Fired? [Racked]