"Where my bad bitches at?" asked Nicki Minaj, dressed in a gold bra, fringed hotpants, and matching knee boots that made her look like Artemis, Wonder Woman, and Flash Gordon all at once. "Are these niggas treating you right? First of all, you guys got motherfucking nerve; I'm gonna need you all to get on the floor and kiss the ground we walk on!"
A gang of dudes in the front row, arms outstretched, looked a millisecond ready to do so: anything for Queen Minaj, and if she's demanding it then all the better. For a second, her serious, superhero-stern face cracked for a minute, as it did many times throughout the show. Her voice softened into a giggle, that Queens Betty Boop brogue dialed to full charm: "The guys are like, 'Why did I come here?!'" As if to answer that question—and, at the same time, refute it—she launched into "Anaconda," the track in her repertoire that most flosses her flawless booty while uplifting the shapes and sizes of curvier women who don't adhere into the typical skinny supermodel silhouette, a statement she'd doubled down on earlier in the week on Twitter. She and her cadre of dancers twerked to oblivion, sticking their butts in our faces with pride; it might sound conceptually absurd to say but the sex appeal and titillated boys were side effects of encouraging black women to feel good about their bodies, and all of us to recognize and appreciate our singularity, even if we don't look like the USA Today, cut-out version of skinny (white) beauty. Asking where the bad bitches at was rhetorical; with Minaj on the cosign, we were all right there in the building, now and forever.
In some ways, the Brooklyn stop of the Pinkprint Tour was a disorganized mess. There was entirely too much time between sets during Minaj's costume changes; the sequencing of the setlist didn't make a lot of sense; a speaker at stage left blew out; the DJ missed cues. It's in the earlier US stage, and this particular show was being filmed for (presumably) an as-yet-unannounced tour documentary, details to be announced "in about a month"—these things could be chalked up to growing pains. But at its essence the concert was a declaration of boss-ass-ness, of Minaj showing she was up to par with her pop peers, backed by full band and four back-up dancers and a smattering of choreography that proved Minaj's been training her moves since the old days. Ironically, when she actually upstaged the other working pop stars out it was when she wasn't even trying—when the dancers were backstage and Minaj was alone with her adoring audience, rapping her ass off, embodying a ferocious power and spirit of all the women who are getting theirs despite unfathomable odds.
The Pinkprint, Minaj's 2014 album, was characterized as a break-up document—the somber text of a woman who'd recently emerged from a ten-plus-year relationship with Safaree Samuels and was stressing about it. That was a narrow read, though, and overlooked that most of the album was about Minaj growing up, liberating herself, and being stronger than she ever was. On the tour, it was as if she wanted to get those songs over with; she opened, weirdly, with "All Things Gone" and "The Crying Game," dressed in black lace and looking the spitting image of a mourning Diane Pernet. They're sadder Pinkprint jams but rather than kick us off on a too-somber note, she hammed it up, her drama-school kid coming through like a drag queen doing Evita as she seemed to float on a river of fog, a taupe-clad ballerina interpreting her sorrow via melodramatic arabesques, Minaj making sadfaces that almost broke into grins at every sign of an audience screech. Never forget this chick went to LaGuardia, cause she doesn't; later in the show, as she sang "Grand Piano" and over-emphasized the "ian-oooo" part of the chorus, she went full opera as a cascade of fake snow tinkled around her from the ceiling, the fog machine on 11 again. At the end of "Moment For Life," she descended back into the stage, kissing the audience goodbye and flicking her hand up in a graceful cup, as though she'd played an entire show instead of three songs.
The concert drove home the point of her ascension, not just a platform to Minaj to flex the ever increasing magnitude of her badass-ness but also to floss her new love with Meek Mill. At the end of "Buy A Heart," after emerging from the ground in a protective embrace, they totally kissed. I screamed involuntarily, as my friend, an adult professional in her mid-30s, yelled out "MOM AND DAAAAAAD!" Meek, who looked like he might melt into a puddle, said, "Everyone, meet the woman who got me starstruck," a reference to the tiny ossified poop of a diss track Drake dropped over the weekend, in which he accused Meek of being too soft and too in love. (The irony!) It was in sharp contrast to Nicki's earlier tune, that she hates being in love because she doesn't want to "lose her power."
G/O Media may get a commission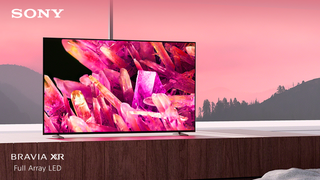 $400 off
Sony 55 Inch 4K Ultra HD TV X90K Series
But she's best when she's coming for people, a New York rapper to the core; "Is some hatin'-ass bitch mad at you right now?" she asked, before launching into a powerhouse segment of "Bees in the Trap," "Flawless," and "Ass." Her back-up dancers' choreography was some of the best I've seen in a pop concert, flicking snaps and hair flips in relatable, recognizable ways while themselves being recognizable and relatable—a couple seemed a bit older than average, one wore rows and doorknockers, and one had a thigh-sized tattoo. Between that and her search to get two audience members onstage ("This girl just said 'I want a ponytail like you, bitch!' What?! Only in New York," Minaj laughed), it felt as homegrown as could be, her friends and family in the audience and Lil Wayne in presence for a surprise performance including "A Milli" and "6 Foot 7 Foot," during which the entirety of Barclay's Center felt like it was in nuclear meltdown mode.
"Never give up on your dreams," Minaj beseeched, shouting out Wayne for believing in her before even she did, "a little girl from Jamaica, Queens who rapped." She did "Itty Bitty Piggy," the most New York song yet, and maybe 20,000 people rapped its every lyric while also dying simultaneously because muhFUCK, she did "Itty Bitty Piggy"! When you was in New York, you was fuckin the Yankee!.... Ma-mami I'm cold! Give 'em a blankie! The sound of us all echoing back on each other was simultaneously an engulfing roar and an utter slow-mo silence, the power of that song stopping time and, potentially, a few hearts. She is the indisputable Queen of New York in an era and a city that doesn't really have a King, and for the first and most enduring time, the dominance of a woman rapper ran this shit. We were all with her, and she knew it.
---
Contact the author at julianne@jezebel.com.
Image: Nicki Minaj performing in New York via Splash News.