For the past four years, Nicki Minaj has used a personalized pink microphone studded in light rose Swarovski crystals. Created by a former art student from Cleveland, it's become an iconic part of Minaj's overall live presence, even as her personal style has transformed from Harajuku Bride of Frankenstein to sleek and minimalist boss-ass bitch in the boardroom.
Since she debuted it sometime in the summer of 2011, it's been transfixing, and signifies a crucial part of her persona: it looks like a dildo, for one, and is a perfect match to a the crystal-pink shade of fun 2008 party booze Nuvo and also douches. The mic is a hyper-feminine symbol that signifies autonomy, joy, self-satisfaction, while also being the literal vessel of her voice. And with the release of her third major-label album, The Pinkprint, it is more important than ever: the physical embodiment of Minaj's unapologetic early-30-something steez, a utility that gives her permission to investigate inward as well as ball the fuck out. She's complex, as we all are: why not amplify it?
So "Feelin Myself"—that's the anthem, get your damn hands up. Since The Pinkprint leaked late last week, the single with Beyoncé has been the most-cited from the album project, for obvious reasons that go beyond collective Barbie/Beyhive frenzy. On a minimal beat with a G-lean that whips up dreams of a mean drop-top, Minaj and Knowles grab the baton from "Flawless" and take it to its natural continuum: another statement of female autonomy and power, unapologetic strength on rugged lyrical shards. Bey conjures her best Houston tone and raps almost exclusively, while Minaj odes to her superego, her vag, flow, her vibrator, her bag, her stans, and how, "just on this song alone, bitch is on her fourth flow."
"Cookin up that bass/ lookin like a kilo," Minaj raps. "He just want a taste/ biggin up my egooooo, egooo, egoooooo." The word "ego" echoes out into wispy harmonies, cause that's the most important word in this verbiose track and, probably, the entirety of The Pinkprint, Minaj's third studio album and up there with her best releases. It's too early to say I like some of the tracks on here almost as much as my favorites from Beam Me Up Scotty, that iconic mixtape and her best release, but given enough time to live with them, I could see myself bopping along with the vehemence I normally reserve for "Itty Bitty Piggy" and the like. That's partly because this is the most by-for-about women album she's ever dropped, as crucial to elucidating the minutiae of women's emotions (via her own) as it is about encouraging and elevating women to the boss-bitchiness that we all deserve.
G/O Media may get a commission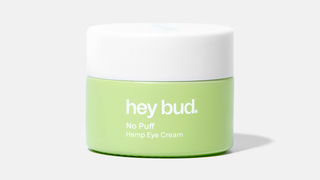 15% off
Hey Bud - No Puff Hemp Eye Cream
You're probably already tired of hearing that it was the Year of the Feminist in mainstream pop music, 2014's go-to easy narrative. But there was an element, and Beyoncé was its prime purveyor, writ large behind her queenly silhouette at this year's VMAs. Some naysayers latched onto that powerful imagery in order to discount her as a representational feminist and nothing more, but the Barb/Hive power-posse knew something more about it: 2014's anthem was Minaj's "Flawless" remix which, even not considering the epoch-defining Chimamanda Ngozi Adichie sample, espoused one of the most important of feminist tenets, the one that overrides everything else on The Pinkprint: self-esteem, the permission to feel good.
More importantly, it promoted unapologetic ego, the radical act of feeling one's self as a liberation narrative. In one of "Feelin Myself"'s aforementioned four flows, Minaj purrs, "I'm feelin myself/ Jack Rabbit/ I'm feelin myself, yakoff/cause I'm feelin myself jack off/ He think about me when he whacks off/ whacks (/wax) on?/whacks (/wax) off." Ostensibly this is a lyric about masturbation, but it is also about getting off on knowing the power she has over men, and getting off on knowing they get off to her, too. It's literal and symbolic of the power she wields, not just sexually but within a rap industry that's been historically quick to dismiss women but which needs her now more than ever.
It's not a coincidence that she refers to her "sons" no less than three times on the album (on "Shanghai," on "Four Door Aventador," on "Want Some More"), hearkening back to her classic "Did It On Em" line, "all these bitches is my sons," and other various diminishing assertions of supremacy. While stunting on these dudes Minaj is also lifting up several women collaborators among her sons, featuring not just Bey and Ariana Grande but relative upstarts Jessie Ware (the singer on "The Crying Game") and Maya Jane Coles (the house producer/DJ sampled on "Truffle Butter").
On "Get On Your Knees," Minaj's latest entry in the great tradition of rap cunnilingus songs, she demands her man go down where he belongs. She practically yells, with a domme's sense of authority: "Gimme brain! Assume the position/Make me way smarter like you was a magician/Pay my dues in tuition/it's good for your nutrition." With other tracks like "Want Some More" ("who make Lil Wayne give her five million?"), "Big Daddy," and the album stand-out "Four Door Aventador," in which she perfectly conjures Biggie (yet again!) in a love potion to her Lambo, she's putting down that ill CEO witch-magick, knowing we all can infer how broadly her tentacles of power unfurl. On "Trini Dem Girls"' differentologist dancehall riddim, she extends "Anaconda"'s promotion of self-love in underrepresented, often-demeaned parts of the population from thick girls with booty to Caribbean badgyals with patois and a pussy pop: "pat pat on de kitty cat," she raps. "He don't mess with regulars."
But with missteps like letting Drake and Wayne's horrible, objectifying verses fly on "Only," we can see the cracks in her wonder-woman steez, and those lines alone would threaten to topple the whole foundation were it not for the softer parts on The Pinkprint, on which she loosens her exoskeleton for a bit on her own terms. More than anything, this is an album about autonomy, which translates to freedom—self-drivenness, autoeroticism—and also being on your own for the first time, the gingerness and loneliness that accompany it.
The album's break-up narrative comprises about five of its pop ballads—earlier this year, Minaj broke up with Safaree "SB" Samuels, her boyfriend for over a decade—and the lead singles "Pills n Potions" and "Bed of Lies," comprise some of her more introspective thoughts. But there's also a sense that fame has done her in a bit, too. "All Things Go" opens the album with verses about feeling alienated from her family, blaming herself for her cousin's untimely death, and alluding to an abortion or a miscarriage, while "Mona Lisa" finds her delving into post-Weeknd, submerged R&B and examining her predicament, stream-of-consciousness style. "He ain't worried about me/he just tryna bust nuts," she sings, almost absentmindedly in a post-Dej Loaf/Makonnen world. "Time's up."
Yet even in staring-off-into-space, he-fucked-me-over mode, it's Nicki Minaj's strength that she keeps coming back to, and it's the convergence of her power and plaintiveness that makes The Pinkprint one of her strongest releases. She's 32 now, give or take a few days—December 8 is her birthday, a Sag, of course—and like many women who've snuck past the finish line of their 20s, she knows herself better and more vehemently than ever before. This album is Minaj standing on her own with more surety than ever, a woman's album for a woman's woman, giving us the little vocal push to do the same. And if that's not enough, try this: "Want it, I get it, I don't be wanting for nothing/I mean I do what I do and it must be counting for something." The Pinkprint: Momma loves you.
Image via Getty.