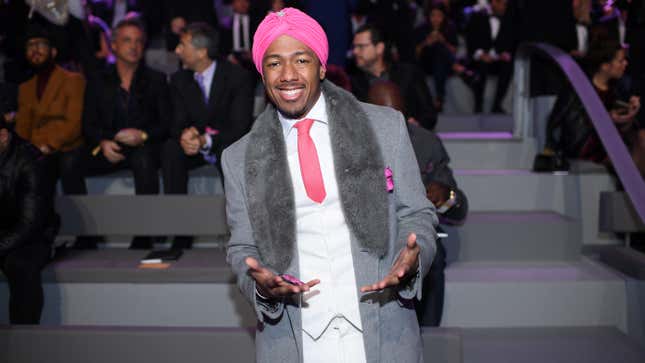 On Monday, Nick Cannon, father to 12 children, posted a cryptic Instagram story featuring a baby bottle emoji, saying he had big news to share. A collective grigh (groan/sigh) went around the world. Was he teasing the revelation of lucky number baby 13? Yet somehow the actual reveal was even more disconcerting than simply procreating once more. Instead, Nick Cannon is going to be hosting a game show called Who's Having My Baby? in which women compete to…have a baby with him.
Taylor Swift's Rep Thinks You Need to Calm Down About Her Private Jet
The "mother of all game shows," as E! is tagging it (woof), will premiere this spring with Kevin Hart as the host. The promo Cannon posted to his Instagram showed an enthusiastic crowd laughing and sexy contestants coyly waving to Nick Cannon as he sings "Eenie-meenie-miney-moe." Hilarious if you don't think about the possible child who may exist due to all of this! Entertaining if you don't think too hard about this resembling dogs being picked out to breed!! Ha ha ha ahhhhhhhhhhhhhhh!
When asked just one month ago if he was interested in having more children, Cannon told ET Online, "I believe I definitely got my hands full. And I'm so focused. I'm locked in." He added, "God decides when we're done." Did God produce this dystopian game show, Nick?! If so, I feel confident declaring that God Is Not A Woman!!!
Unfortunately, gamifying procreation for TV is not a new premise. In 2020, Kristen Davis hosted a reality show called Labor of Love in which men competed to marry and have children with the show's star, Kristy Katzmann. At the very least, the goal of impregnation on Labor of Love came with the responsibility of partnership. (Also—shocker—Katzmann did not end up marrying or having kids with the winner of the show.)
Who's Having My Baby? does not appear to have any accompanying pretense of love, romance, or partnership. Hart leads the audience in a chant of "Having my baby with Nick Cannon" like he's Bob Barker teasing the grand prize of a Hoover vacuum. Of course, babies are born everyday to parents who have little to no sentimental relationship. But most (I can't guarantee all; this world is too vastly strange for such wagers) do not suffer from the knowledge that clips of their dad plucking their mom out of a lineup to bang exist a few short clicks away on YouTube.
I am worried about Cannon's 12 existing children who might have some existential doubts should they ever see this show, but I also have some logistical questions. If the winner actually gives birth to Cannon's next child, is he obligated to pay any sort of child support? Do contestants sign away those rights when they sign up for the show? Is there a marital bed backstage where they do the deed, or are we talking a turkey baster situation? Also—did Kevin Hart lose his mind?!
My ultimate hope—and what would be the only saving grace of this truly disgraceful premise for a show—is that "winning" the title of being Nick Cannon's next baby mama would be more of an honorarium. No real duties required. Otherwise—abort!
Update: I got got - congrats to all my haters!