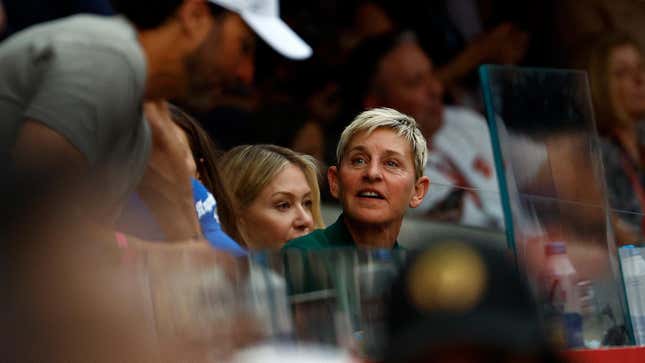 A question on everyone's lips: What do a 16-year-old Instagram rapper, a former contestant on the Bachelorette, and Ellen Degeneres have in common? Maybe nothing, except that they've all been misreported as dead this month.
Late Wednesday, the former daytime TV host and comedian became the latest public figure in a peculiar pattern to be announced as having met their maker. Degeneres briefly started trending on Twitter thanks to a series of inexplicable tweets claiming she'd died, hashtags like #RIPEllen posted by "fake news websites," and sock puppet accounts, according to reports. Any panic on the part of fans, however, was short-lived, as Degeneres was spotted out and about running errands in Montecito not long after. Phew!
Even weirder: This isn't even the first time Degeneres has been reported dead. In 2020, after she'd been accused of operating a toxic workplace, a rumor that Degeneres had died by suicide went viral on Twitter.
Listen, I know it's been a slow month in entertainment news, but what is it with celebrities—or, celebrity-adjacents—becoming the subjects of online death hoaxes lately? Earlier this month, an Instagram account belonging to formerly internet famous child rapper Lil Tay posted an announcement that she'd died—only the young influencer has since confirmed to TMZ that she is very much alive and that her Instagram had been hacked. Then Josh Seiter, a Bachelorette alum, was forced to post a video message to prove he was still alive just one day after an Instagram post from his family announced his death, citing mental health struggles.
I get it—there's a strike. No one but Rita Ora is showing up to the Venice Film Festival. Jeremy Allen White can only call the paparazzi on himself so many times. But can we all agree we're bored to death of the death hoaxes? Let's please move on.
---