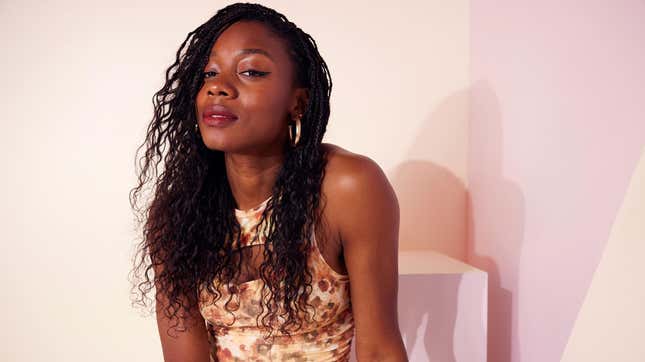 Two years ago, Nia DaCosta made history when Marvel announced her as the first Black woman to direct an MCU movie with her forthcoming project, The Marvels (out November). In a wide-ranging interview with Vanity Fair out Tuesday, one particular tidbit from the Candyman director has riled up large, incel-adjacent swaths of the internet: DaCosta's comments expressing surprise at the respect she's received from "middle-aged white dudes" at Marvel.

The comment comes as DaCosta alludes to "ridiculous" instances on the set of Candyman when crew members would say "things that are super inappropriate, that you would just never say to anyone else because they were so specific to my gender, my race, my age." DaCosta's experience directing The Marvels—the Captain Marvel sequel starring Brie Larson, Ms. Marvel's Iman Vellani, and WandaVision's Teyonah Parris—was thankfully different. "The thing that I've been most surprised by lately is how much respect I'm getting from these middle-aged white dudes that I work with," she told the magazine.
A normal response to this revelation from DaCosta would be: "Cool! Awesome! Truly glad to hear that and sorry about what happened on the set of Candyman!!" But unsurprisingly, social media posts about DaCosta's very tame comments on Marvel's "middle-aged white dudes" are being subjected to extensive trolling from hordes of Twitter Blue users. "It's almost like middle-aged white dudes are people too," wrote one. "What a spoiled little brat," bitched another user. "Why is she bringing race into this?" chimed in a user, while another user wept, "She clearly doesn't have respect for them talking about them like that." You get the gist. DaCosta's comment also sparked this nasty little headline in a comic book fan website: "'The Marvels' Director Nia DaCosta Unsurprisingly Plays Racism And Sexism Card In Promotion Of 'The Marvels.'"
All this over a throwaway line—which, mind you, if anything is complimentary of Marvel and white dudes—in a thoughtful interview that sees DaCosta unpack a whole trove of topics, like her experience working with ever-mysterious Marvel head Kevin Feige, the concept of "superhero fatigue," and her early fears about whether Marvel would "destroy [her] soul."
It's beyond gross to see a Black woman director dogpiled in this way. It's also not surprising! The Marvels, which centers around Larson's Captain Marvel as well as the MCU's first Muslim superhero (Vellani's Kamala Khan) and Parris' Monica Rambeau, a Black woman superhero, has been harangued by virulently sexist, chronically online men and unrepentant incels since it was announced. Larson herself often draws the ire of these gents over her commentary on sexism in Hollywood. In April, when the first trailer for The Marvels dropped, it became the most disliked Marvel trailer in history on YouTube because it showcased women, raking in even more dislikes than Sony's Morbius, a movie famous for little else except being very bad.
Fairly large, unsurprisingly male swaths of Marvel's fan base have a pretty aggressive sexism problem, between review-bombing Disney+ shows about female superheroes like She-Hulk and Ms. Marvel, and pretty much any other Marvel project with non-white male leads. I highly doubt this demographic is going to have a sane reaction to The Marvels, set to release in theaters on November 10.
Marvel has long received criticism for neglecting to adequately protect some of its women stars—like Larson—from the torrent of threats and harassment they receive. I'm hoping some of the "middle-aged white dudes" DaCosta referenced step up and show her some respect, publicly, as we get closer to release day.