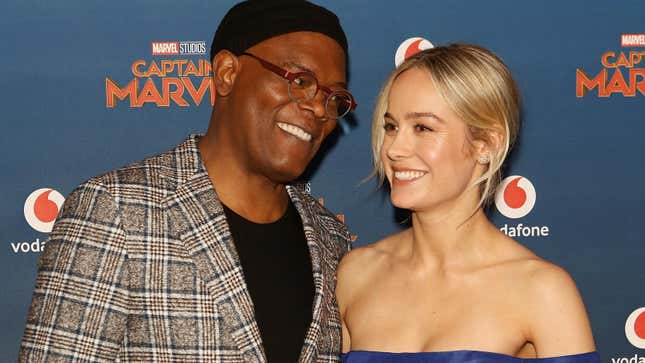 The Marvel Cinematic Universe famously spawned the undying love between Zendaya and Mr. Zendaya (Tom Holland)—but it also helped cement the equally undying, platonic friendship between Samuel L. Jackson and his co-star, Brie Larson. That friendship means that Jackson is now always raring to go to bat for Larson, who's a frequent target of nasty, sexist vitriol from male Marvel fans.
World Warriors: Street Fighter 6's Female Creatives
Speaking to Rolling Stone this week, Jackson defended Larson—who plays Captain Marvel, the first female superhero to get her own Marvel movie—against the online trolls who consistently harass her and review-bomb her Marvel projects.
"These incel dudes who hate strong women, or the fact that she's a feminist who has an opinion and expressed it? Everybody wants people to be who they want them to be," he said. "She is who she is, and she's genuinely that."

That Jackson, 74, subjected himself to learning what an "incel" is just to defend his much younger best friend from online harassment, is, to me, the epitome of true friendship. Should I live to be 74, I hope I never have to learn whatever the latest terminology is for violently vengeful (yet simultaneously pathetic) male trolls—though I suppose I would want to follow Jackson's kind example and would be willing to learn just to excoriate those twerps for a real friend.
Earlier this year, the first trailer for The Marvels—which stars Larson alongside Iman Vellani's Ms. Marvel, the first Muslim superhero in the MCU—became the most disliked trailer on YouTube in MCU history within 24 hours of being posted. The video was subjected to extensive review-bombing tactics and inundated with predictably sexist comments. (Such comments have become so frequent, however, that the MCU has begun to make meta references to them; in She-Hulk, hateful comments about the titular character included real life examples.) Other Marvel projects that have featured female superheroes have been subjected to similar review-bombing tactics on websites like Rotten Tomatoes.
But Larson, specifically, has long been a source of ire on men's rights and incel forums due to her outspokenness about feminism in the entertainment industry—and certainly, for being Captain Marvel. Larson's fans have criticized Marvel for not adequately publicly supporting her through the torrents of vitriol and harassment she faces from its heavily male fan base. But with or without Marvel backing her, Larson obviously has Jackson in her corner, and his latest supportive comments about her simply warm my heart.
According to Jackson, he and Larson originally "bonded through the [2016] election" while filming the movies Kong: Skull Island and then Unicorn Store together. When Donald Trump won, Jackson recounted to Rolling Stone that "[Larson] was broken and I was like, 'Don't let 'em break you. You have to be strong now.'" Jackson added that Larson later called him after she was cast as Captain Marvel: "She...was like, 'They want me in the Marvel Universe. Should I do it?' And I was like, 'Hell yeah! Let's do it!'" (Jackson plays Nick Fury, a character who appears in many Marvel movies, including Captain Marvel.)
Jackson also leaves emphatically supportive comments on nearly everything Larson posts to her Instagram grid, praising her outfits or, more recently, joking about Trump's April arrest. In one particularly sweet Instagram post from January, Larson referred to Jackson as "my soulmate." Move over Tomdaya—these two are the MCU's real (platonic) love story, and I'm very much here for it.