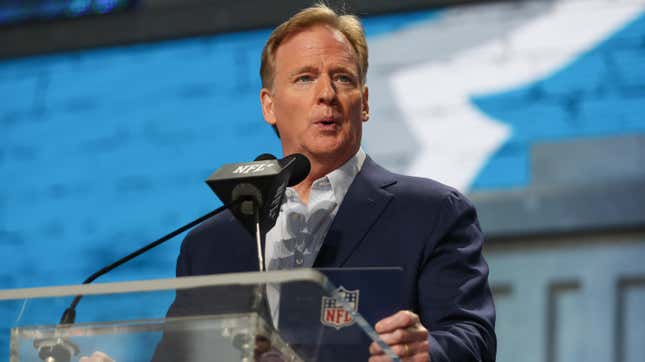 After several disappointing years shrouded in sexual assault and harassment allegations, discrimination complaints, and the silencing of its women employees, the NFL might finally face accountability for its hostile work environment.

On Thursday, according to the Los Angeles Times, the California and New York attorneys general announced that they are launching a joint investigation into the NFL, based on claims of discrimination and a toxic workplace culture from more than 30 former women employees. In a joint statement, California Atty. Gen. Rob Bonta and New York Atty. Gen. Letitia James said the investigation is set to look into gender-based pay disparities, harassment complaints, and discrimination on the grounds of gender and race—some of which may violate state and federal laws.

In their statement, the AGs stated that the league had not "taken sufficient steps to prevent discrimination and retaliation in the workplace," according to the New York Times. There is no time limit or deadline on the investigation as of yet, but the states have already subpoenaed the NFL's New York and California offices for documents and information.

Allegations of workplace gender discrimination first came to light in a 2022 New York Times investigation, in which dozens of former women employees detailed their negative experiences working for the league, which left them feeling "demoralized." Of the roughly 1,100 people that work for the NFL in its New Jersey, New York, and California offices, according to a league spokesman, just 37 percent are women, and 30 percent are people of color.
"We have serious concerns about the NFL's role in creating an extremely hostile and detrimental work environment," Bonta said. "No company is too big or popular to avoid being held responsible for their actions."

"No matter how powerful or influential, no institution is above the law, and we will ensure the NFL is held accountable," James added.

In April, for example, a former woman employee filed an employment discrimination lawsuit in Los Angeles County Superior Court concerning allegations of age, sex and gender discrimination within a "hostile" work environment. Jennifer Love, who co-created the NFL Network and spent 19 years at the company, becoming the first woman vice president at the NFL Media Group, claimed the league's HR department never responded to her complaints regarding "pervasive sexism in the workplace and that the NFL had a 'boys club' mentality." And of course, the NFL has, for months, been embroiled in a scandal with the Washington Commanders: The team run by Dan Snyder has been investigated by the House Oversight Committee for allegations of assault, harassment, and rampant gender discrimination.

The league told the New York Times Thursday that it intended to "fully cooperate with the attorneys general" and that it does not "tolerate discrimination in any form." The league also claimed that "these allegations are entirely inconsistent with the N.F.L.'s values and practices." "Our policies are intended not only to comply with all applicable laws but to foster a workplace free from harassment, intimidation and discrimination," the statement read.
"Despite reports and allegations of abuse perpetrated by both players and male staff, allegations that the NFL has not taken sufficient effective steps to prevent discrimination, harassment and retaliation from occurring in the workplace persist," Bonta and James said in the statement.
After years of enjoying relative immunity in the public eye, perhaps the NFL will finally face repercussions for the toxic culture it has enabled—both on a league level and at the individual team level. The league can participate in as many International Women's Day campaigns as it wants, but it's getting increasingly difficult to drown out the growing number of women's voices crying for reform.