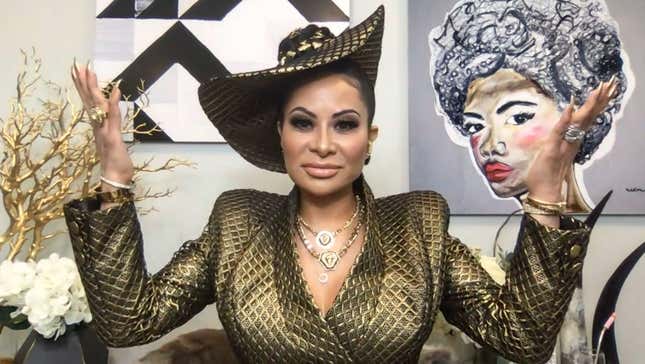 Jen Shah, star of the Real Housewives of Salt Lake City, was sentenced to 78 months in federal prison on charges of wire fraud on Friday by U.S. District Court Judge Sidney Stein. Shah will have to surrender herself to prison on February 17, 2023, and will be subject to five years of supervision upon release.
Britney Spears Escapes Family Drama By Going to First Bar
"I do wish you luck," Judge Stein told Shah after her sentence was read in court. "I know you can put this behind you and when you get out you can rebuild your life."

In July 2022, Shah pleaded guilty to conspiracy to commit wire fraud for her role in a $5 million nationwide telemarketing scheme that defrauded hundreds of vulnerable elderly people out of thousands of dollars.
"She ran her own floor and trained and hired people here in Manhattan for years," Prosecutor Robert Sobelman told a reportedly packed courtroom on Friday. "She was here in New York half a year telling people how to do this."
"Every cooperating witness said the person with the most power was Jen Shah," Sobelman continued.
Shah was one of many involved in the telemarketing scheme to be arrested and charged in 2021 for targeting elderly people and selling them fraudulent "business services." At the time, she pleaded not guilty. The Salt Lake City housewife has seen her fair share of scandals during her stint on the smash hit—from traumatizing her former designer to public blowouts—but the criminal proceedings have become the most explosive plot lines of the popular franchise, where she's repeatedly, often forcefully, denied involvement in the scheme. Notably, her season two tagline was: "The only thing I'm guilty of is being Shah-mazing." Even until January 2022—two months after her assistant and close friend, Stuart Smith, pleaded guilty—she publicly maintained her innocence online and in interviews.

"Ms. Shah was lost for months in an echo chamber of her own denial," her attorney, Priya Chaudhry, said in court of her repudiation on Friday. "She found herself staring at her truth and the depth of her wrongs and she hurt them and they were real and there was no more lying."
Shah later shocked Bravo fans and changed her plea, admitting full knowledge of the grift.

"From 2012 to March 2021 in the Southern District of New York and elsewhere I agreed with others to commit wire fraud," Shah told Judge Stein in July."I did this by knowingly providing customer names to people who were marketing business services that had little or no value." She added that buyers were "misled about the value and that's why they bought the services."
"I knew this was wrong," Shah continued. "I know many people were harmed and I am so sorry."
Last month, federal prosecutors asked Judge Stein to give Shah 10 years in federal prison, arguing that she mercilessly stole the life savings of victims over the course of a decade and mocked them by flaunting her lavish lifestyle for audiences across the country. "At the defendant's direction, victims were defrauded over and over again until they had nothing left," they wrote in their sentencing submission. Shah, meanwhile, argued for a sentence of just three years.
"The terrible business decisions I made and professional relationships I developed stemmed from some personal painful experiences that I was going through in my life," Shah wrote to the judge in a four-page letter titled, "How I got involved in the situation?"
"We know hundreds more have lost so much, their confidence, the security of their savings, they lost sleep and their dreams…so many of these people had very little to begin with and now they struggle even more," said Chaudhry in court on Friday. Several victim impact statements have heartbreakingly detailed such struggle.
"Each person scammed has their own story with a dream of a better retirement and life. That was taken away when they were [coerced] to give their money for false promises," one man wrote. "Please consider the suffering caused to these seniors possibly because of now not having the money for food, medicine or medical treatment they need. All who had their money stolen cannot use that money to increase their quality of life in retirement." In addition to prison time, Shah has been ordered to forfeit $6.5 million and pay restitution to the victims.
Prior to announcing her sentence, Stein addressed the court, saying of Shah: "People should not confuse the character she played on an entertainment show with the person I have before me," he said. "The other is acting and this is reality." But reality was cause enough for scores of Bravo fans and court watchers to attend the proceedings—so much so, that an overflow room was required as the 70-person capacity courtroom was not sufficient, per NBC.
Shah isn't the first housewife to go to prison. Teresa Giudice, of Real Housewives of New Jersey, was convicted of fraud in 2014. While Bravo postponed filming until Giudice's release, Shah doesn't appear to be returning for her snowflake anytime soon.
"I don't know if she appreciates the harm she has caused, I hope she has, I heard the words," Judge Stein said after reading Shah's sentence on Friday. "Those people have no way of being made full again...If they are financially, they won't be emotionally."
It's a not so Shah-mazing end to a...memorable run.