Who would have guessed that an industry like advertising would have a problem with sexism? Now that's sarcasm, Donald Trump.
On Thursday, industry trade group 4A's released some of the statistics they've been compiling on women's experience in the workplace. We are frequently baffled and horrified by the bad, sexist ideas that make it to advertising print, but it seems like we really shouldn't be. It's actually a borderline miracle whenever an ad comes out that isn't sexist.
4A's mentions that as recently as 2012, women accounted for 80% of consumer spending (What?!), but only 3% of creative directors were women. The numbers have risen, but this year, 70% of female creatives surveyed said that they'd never worked with female creative director or executive creative director. Then there are these numbers:
-When it comes to sexual harassment, more than half the women surveyed had experienced sexual harassment at least once.

-The women also responded that there have been at least a few times when they have not received desired assignments or promotions because of discrimination (33%) and that there have been times when they were not included in making decisions that they should have been included in because of discrimination (42%).

-When asked to what extent they feel potentially vulnerable to discrimination at work in the advertising industry, more than half of the respondents said their gender made them feel either somewhat vulnerable (39%) or very vulnerable (15%), higher than any other attribute in the survey.

-Almost two-thirds of respondents either agree somewhat (40%) or agree totally (19%) that there were times when they personally experienced discrimination without recognizing it—only now do they see it was discrimination.
If the advertising industry reflects the culture at large, that seems about right. Yet, advertising shapes our culture. It's a mirror into a mirror into a mirror for all eternity.
According to Mashable, 4A's will be releasing more findings in the Fall, but they wanted to capitalize on some recent sexist fuck-ups at big firms like Saatchi & Saatchi and JWT. The JWT CEO was sued and fired after being accused of making rape jokes amongst other things. At Saatchi &Saatchi, executive chairman Kevin Roberts stepped down after stating the reason there were no executive women at the company is because young people lack "vertical ambition."
G/O Media may get a commission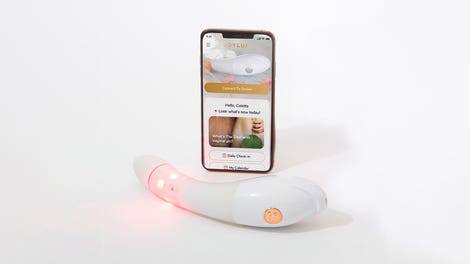 $50 Off
Joylux vFit Gold Device
Many have described these as bad apples in bunch, but 4A's president Nancy Hill told Mashable that they released these statistics early to combat that idea, writing, "Given the amount of discourse generated in the past two weeks, some of which seemed to imply there were isolated incidents, we wanted to put any further denial to rest."