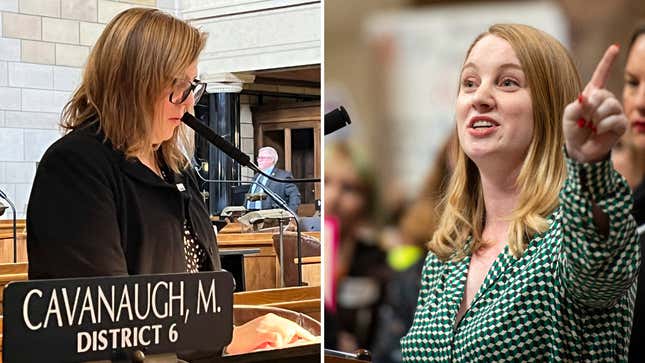 Two Nebraska state senators are showing the world exactly how transphobes, but especially transphobes in power, should be received: Do not give them a single fucking inch. State Sen. Machaela Cavanaugh (D) originally made headlines for her weeks-long filibuster that brought the state unicameral to a halt. But after a vote to advance a bill banning trans healthcare for kids on Thursday, she's taken up her filibuster again—and this time she's joined by state Sen. Megan Hunt (D).

The Filibuster is Standing in the Way of Abortion Access
"When it comes to the protection of children in this state, I will not compromise," Cavanaugh said in a speech on the floor earlier this week. "I will not compromise."
Instead of agreeing to make the bill "better" or more palatable for public perception, she said wants everyone in the legislature to be forced to show on the record exactly how they feel about trans people. "So if you vote for this, you vote for this. You vote for LB 574 in its purest evil form. You vote for 574 to go after the medical community, to go after parents and to go after trans children. That's what you vote for," she said.
Here's more of her speech, which is all just so fucking good and righteous:
"I'm going to block anything from changing this bill. I tried to get the committee to change this bill before it came out of committee. I tried to convince the committee members that we should consider an amendment. I asked if the introducer requested an amendment. No. No. No."

"So now you wanna compromise? To assuage your guilt? No thank you. I will not allow you to assuage your guilt. If you want to find a way to vote for 574, vote for 574. It's there for you. Go for it. Have at it. But it's not gonna get better. It's going to be in its pure from that Sen. [Kathleen Kauth] and the male members of the HHS committee decided it would be in."

"You get to vote for that and nothing else. If you want to blame me for your inability to stand up for your own beliefs, fine. I don't have to live with you. I don't have to live with your conscious, you do."
The issue hits close to home for Hunt, another state senator from Omaha, who's fighting for her own trans child. "We've made it clear that this is a line in the sand. People have said, What if we go after your bills? What if we put a bunch of bills introduced by progressives on the agenda, are you going to filibuster those too? Yeah. Yes, because we're not like you. We have a principle and a value that actually matters that much to use that we're willing to stand up for," she told the legislature.
Hunt continued with a defense that I want to see from all lawmakers:
"This bill harms me in an unforgivable way. This is a line you don't cross with me. If you cross it today you're staying on other side of it, because you have done irreparable harm. You're doing harm to the body and Nebraska as well. Don't say hi to me in the hall. Don't ask me how my weekend was. Don't walk my desk and ask me anything. Don't send me Christmas cards. Take me off the list. You don't know me. We have no relationship. And if you don't believe me, if you think I'm going to cool down and change my mind? You should believe me. No one in the world holds a grudge like me. And no one in the world cares less about being petty than me. I don't care. I don't like you. You aren't welcome in my space. You aren't' a safe person for my child to be around or any child frankly. Don't believe me? You should."
I have spent hours trying to put it into words how gratifying it is to see a lawmaker actually defend trans people. This act of solidarity is up there with the congresspeople who voted to pass the Affordable Care Act and lost their seats anyway. Getting people healthcare was worth that. And protecting trans people—and excoriating transphobic lawmakers in the process—is worth it now.
On Friday morning, Cavanaugh tweeted that trans kids are worth blocking everything else. "New bills will come to the floor in the coming weeks, including ones I support. I will filibuster them all. Every. Single. One," the state legislator from Omaha tweeted. "Why? Because I am not giving extremists any chance to legislate their hate against the trans community."
Yes! Exactly! Do not give transphobes an inch! Don't let them "just ask questions!" Don't let them couch their transphobic beliefs in policies for protecting the children! Make them say it with their whole chest. Make people have to carry around the record of their transphobia forever.
Gender-affirming care is lifesaving, whether it's for children or adults. The largest nongovernmental survey of transgender American adults—released this week by KFF/The Washington Post—found that most said transitioning made their lives more enjoyable. The most heartwrenching quote in the paper's write-up of the survey? TC Caldwell, a 37-year-old Black nonbinary person from Montgomery, Alabama, told the paper: "Living doesn't hurt anymore." If it makes you feel better to pretend it's not lifesaving, you can. You would be wrong to do so, but you can pretend that. Withholding gender-affirming care is as cruel and unusual as withholding chemotherapy or an appendectomy.
Gender-affirming care is not easy, nor cheap, to acquire. There is a limited supply of doctors, and this year, various states are trying to criminalize the practice. In 2011, Janet Mock's trailblazing essay about transitioning for Marie Claire partially detailed how expensive it was to travel to Thailand for surgery after a year of hormone therapy. That was written over a decade ago, and medical intervention has only gotten more fraught. In that same poll from the KFF/Washington Post only 10 percent said they thought health care professionals knew "a lot" about treating trans people. Ten! Percent!
The women in Lincoln are doing incredible work. As Cavanaugh said back in February when this journey started: "I will burn this session to the ground over this bill. I have nothing but time, and I am going to use all of it."

In the immortal words of Shania Twain, let's go girls.