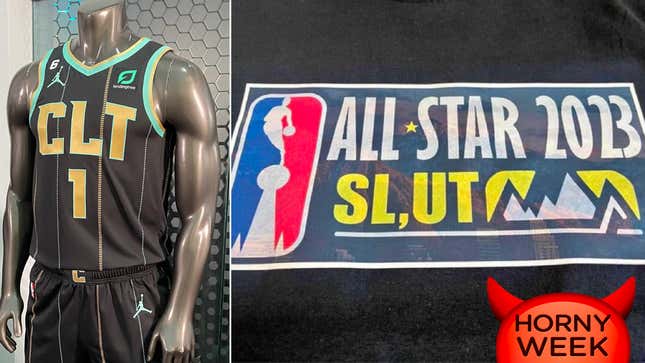 The NBA is a very special place. And by special, I mean horny—this is a group of young men who would, during the quarantined playoffs in 2020, risk their careers to rendezvous with Floridian Instagram models. Where sexual liaisons with the same women have resulted in physical altercations during games. Where players have recorded their own teammates confessing to cheating on their partners in the locker room and exposed them to the world. You might be tempted to write off some of these antics as a byproduct of Instagram DMs—to which I say, remember when former Spurs point guard Tony Parker cheated on ex-wife Eva Longoria with his own teammate's wife??

Larsa Pippen and Lisa Hochstein Pick Sides
In any case, recently, we've been witnessing these astronomical levels of league-wide horniness less from players and instead from whoever the hell is designing some of these NBA logos. Perhaps you've already seen them: Ahead of this year's All-Star Weekend in Salt Lake City, Utah, there are these fucking shirts, emblazoned with what appears to be the formal logo of the weekend:
I feel compelled to point out that the typical abbreviation of Salt Like City has a C tacked on the end there.
And the SL,UT merch appears to not be an isolated incident. I give you: the Charlotte Hornets jerseys, in black, and Milwaukee Bucks' jerseys in cream, below:
A popular art-history-slash-moments-in-sports Twitter account called out the November 2022 "CLT" jersey for what it was:
Look, there are (semi-)reasonable explanations for all of these. The Bucks' 2021 "Cream City" jerseys are the result of an unfortunate but affectionate nickname for a city renowned for its cheese. And "CLT" is a formal abbreviation for Charlotte—but printed on jerseys patterned with elongated, vertical, dotted lines, one's mind (OK, my mind) naturally fills in the blank to read "CLIT," and you can't convince me that no one else is seeing this. Like, I get it—one way to be absolutely unstoppable as a team is to brand yourself "Team CLIT." But this is also a place of work!
I'll say it: Sex positivity has gone too far. Yes, even for Jezebel's Horny Week!! I'd like to be able to enjoy one (1) single basketball game without being confronted by sexy references. I'd like to watch the All-Star game later this month without looking at the event's banner and being called a "SL,UT." Enough.
To that end, if you have information on the perverted minds behind Team CLIT, Cream City, and All-Star SL,UT, please contact me—I just want to talk. (Namely about where I can get one of these "All-Star SL,UT" shirts, please and thank you.)
Read the rest of Jezebel's Horny Week 2023 stories here.