Numerous administration officials have reported that national security aide Sebastian Gorka will leave his position at the White House. He is not likely to remain a part of the current administration.
According to CNN, Gorka has, in the eyes of the White House, elicited too much controversy over the first hundred days of Trump's presidency. While there is some possibility he might be transferred to another post within the administration, he will probably take a job outside of it.
A former Breitbart national security editor, Gorka acts as a deputy assistant to Donald Trump and serves on both the National Security Council and on the Strategic Initiatives Group. He has been vehement in his support of Trump and, notably, has been an especially fervent promoter of the Muslim travel ban. He moreover defends the use of the term "radical Islamic terrorism."
Why, then, would the White House jettison such an ardent cheerleader? He has likely become too much of a liability. Although he denies having any Nazi sympathies, both he and his wife Katharine have made names for themselves among the far right. Born in England to Hungarian parents, he first attempted to build a right-wing political party in Hungary, where he moved in the 1990s, and matriculated in the same circles as far-right anti-Semites and nationalists. Since moving to the United States he has enjoyed far more influence, and now he is a significant figure in the White House.
Gorka's pet project, the theory of "global jihadism," lays bare his Islamophobic ideology. Convinced that "radical Islamic terrorism" is comprised of a variety of Muslim groups and its dictates inscribed in the Quran, Gorka postures as an expert on Islamic terrorism. Any claim to this profound knowledge is absurd: Gorka neither speaks Arabic nor has ever lived in a Muslim-majority nation.
G/O Media may get a commission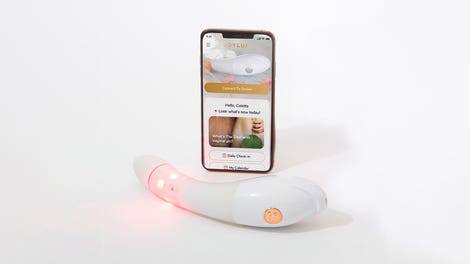 $50 Off
Joylux vFit Gold Device
Over the course of his tenure, Gorka has also given some disturbing interviews, including one where he would not state that the Trump administration regarded Islam as a religion.
But if the White House were to oust everyone with unsavory views, we'd be left with a barren executive branch. It's simply not likely that the administration is concerned with an aide's bigotry. I would wager, however, that they want to avoid public relations snafus when possible.
And on that front, Gorka has been a bit of a nuisance. Like Trump, he has behaved rashly due to social media engagements: when he was threatened on Twitter, he called the individual and threatened to attack him with the White House legal counsel. Last year he was arrested when he tried to sneak a 9mm pistol through a TSA checkpoint at Ronald Reagan National Airport. And in 2004 he was detained after carrying ammunition at Newark International Airport. The latter incident concerned the Department of Homeland Security enough to ask about it in 2011, when Gorka applied for naturalized citizenship.
Finally, while Gorka has advised Trump since 2015, he has previously lobbed vicious critiques of his statements regarding Russia and China. It's impossible for someone as narcissistic as Trump to ignore negative reviews from someone he trusts. And yet, he was clearly pleased enough with Gorka to offer him a powerful position in the United States government. Perhaps the effect of Gorka's hyperbolic rhetoric has, cumulatively, become too unwieldy, or perhaps there's more to the story than we so far know. Probably it's both.