The well-publicized arrest of Trump counterterrorism advisor Sebastian Gorka last year for attempting to carry a 9 mm pistol through a TSA checkpoint at Reagan National Airport was not the first time the self-described "irregular warfare strategist" ran afoul of firearms laws at an airport, The Slot has learned. According to records released by the Port Authority of New York and New Jersey, Gorka was detained for carrying ammunition at Newark International Airport in 2004. The Department of Homeland Security was evidently sufficiently concerned about the 2004 incident—which has not been previously reported—to ask Gorka, a vocal supporter of Trump's proposed immigration ban, for details about the detention during his 2011 effort to become a naturalized citizen.
A former editor at Breitbart News, Gorka is fast becoming famous as a pugnacious defender of Trump's immigration proposals, especially the ones that involved trying to ban citizens from majority Muslim countries. In August 2004, records show, he was stopped at Newark Airport in New Jersey because he was carrying ammunition. The Slot discovered the incident, which Gorka has not previously commented on, through an open records request to the Port Authority, which operates Newark International Airport. (Gorka himself asked the Port Authority for records about the incident in a 2011 request, according to logs posted by Government Attic.)

Gorka was born in Great Britain and spent many years living in his parents' native Hungary. He is now a naturalized U.S. citizen, but at the time he was detained, he was not yet living in the United States: He was working part-time as an adjunct instructor in Germany, at the Program for Terrorism and Security Studies (PTSS), a U.S. Department of Defense-funded program.
The TSA prohibits carrying ammunition on a plane; it has to be transported securely in checked baggage. It's unclear from the records where Gorka was when he was stopped at Newark. In 2011, as Gorka was applying for U.S. citizenship, the 2004 detainment apparently became an issue for the Department of Homeland Security. He wrote to the Port Authority, explaining that he needed to prove to the DHS that he was released without charge after showing Newark officials a Department of Defense ID. From his email to the TSA:
G/O Media may get a commission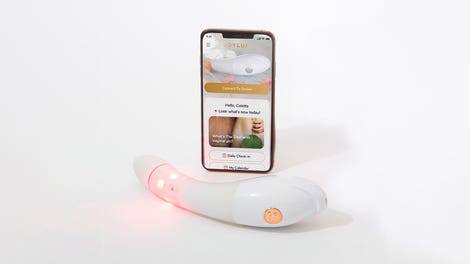 $50 Off
Joylux vFit Gold Device
(The Port Authority responded to Gorka's request that they had no specific records pertaining to his 2004 detainment, and The Slot has no evidence that he was ever charged.)
After Gorka was arrested in 2016, he told his former employer Breitbart that his wife had obtained a concealed handgun permit because their family was being threatened by "the left-wing radical group Anonymous." (Gorka seems to misunderstand Anonymous, which is not "a left-wing radical group." It is not, strictly speaking, a "group" at all, given that anyone can claim to be part of Anonymous.)
According to Gorka, he accidentally picked up a bag containing his wife's unloaded pistol, which is how it came to accompany him to the airport. Once again, he showed a Department of Defense ID:
On the way to Reagan National I grabbed the wrong bag, one I had just used at the range, which contained an unloaded handgun. I was not aware I had done this but of course it was picked up on the X-Ray machine by TSA. The officer who caught it recognized me from TV, I showed them my Defense Department ID, and I was issued a fine but allowed to board my flight.
The misdemeanor charge was dismissed in February of this year.
These legal issues have not prevented Gorka from rising to prominence in the Trump White House, or apparently assuaged his own concerns about dangerous immigrants. After Trump's proposed ban on immigrants from seven countries failed, Gorka warned just this week that there "will be jihadis" who come into the U.S. from those countries.

Gorka's 2004 incident didn't impede his efforts to become a U.S. citizen, presumably because there is no evidence it resulted in criminal charges. Last month, Trump signed an executive order directing federal agents to prioritize for deportation aliens who had, among other things, "committed acts that constitute a chargeable criminal offense," even if those acts did not result in criminal charges. Gorka has strongly defended Trump's immigration policies.
The Slot reached out to Gorka and the White House for comment. Gorka appears to have accidentally included me on a reply-all email in which he asked White House Press Secretary Sean Spicer not to give comment.
Gorka indicates, then, that although his Department of Defense ID helped to "resolve" the issue, he was carrying ammunition not in the course of any Department of Defense work, but because he was on a hunting trip. I also asked if he believes immigrants who are arrested on suspicion of relatively minor crimes should have those arrests factor into their citizenship applications. We did not receive a response to that question, either intentional or accidental.
You can read the full email exchange between Gorka and the Port Authority here.
Additional reporting by Brendan O'Connor. This story was produced by Gizmodo Media Group's Special Projects Desk.