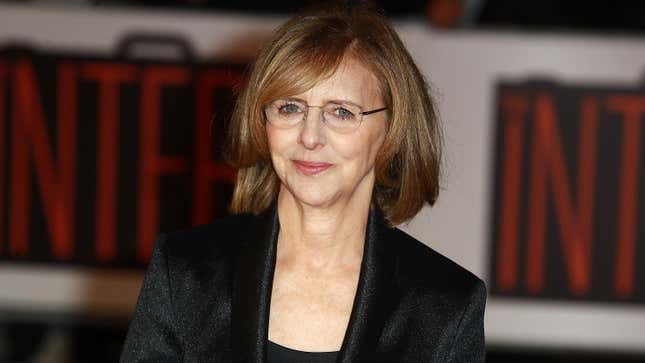 Nancy Meyers' romantic comedy with Netflix, set to star Scarlett Johansson and Penelope Cruz, was officially scrapped this week, and sources say the decision came down to financials. Sure sounds like It's Complicated!

Jameela Jamil: 'Being a Woman Is a Bit Like Being Batman'
According to early reports, Meyers had been in talks with Netflix to write, produce, and direct a "semi-autobiographical rom-com," set to be her first since The Intern in 2015. Meyers, the legendary filmmaker behind Parent Trap and What Women Want reportedly sought a whopping $150 million budget for the project, with the working title Paris Paramount. But the streamer was unwilling to go above $130 million, which…still seems like a lot for a rom-com! A $130 million budget would have made the project the most expensive rom-com ever made, per the Hollywood Reporter.
The genre isn't exactly heavy on stunts, CGI, or costumes: Put Anne Hathaway in a chic, cable-knit sweater, or Katherine Heigl in a bridesmaid dress, then have them banter with Ryan Gosling for a minute, and you've pretty much got your movie. Meyers' demand for $150 million, a counter to an already astronomically high proposed budget from Netflix, is a real head-scratcher, drawing confusion and criticism from skeptical fans. Some have noted that, on streaming, the movie would rake in substantially less revenue than a box office release, and its stars would probably make a lot less, too. "sorry but in what world does $130 million for a streaming movie that will never recoup a cent of its budget at the box office make any sort of financial sense," one Twitter user wrote. Then there's the fact that Netflix can't seem to afford to fund a single show other than Stranger Things (which costs $6 million per episode in its first season) or The Crown (which costs $13 million per episode) past a single season.
And, look—I get the questions. I get the criticisms. I get that given this economic climate, it isn't exactly the right time for fiscal irresponsibility. But a small (OK, huge) part of me wants to know what in the Father of the Bride-fried fuck Meyers needed $150 million for. I can see how big names like Johansson and Cruz, and Owen Wilson and Michael Fassbender, whose names were also attached, might require a bigger budget. Still, $150 million is essentially the price tag of a Marvel movie, in which superheroes galavant across galaxies, blow shit up, run in slow motion in front of explosions, etc. etc. (I assume you, dear reader, have seen at least one.) I have to wonder: Did Meyers have those sorts of shenanigans in mind for Paris Paramount???
And if she did, I, respectfully, would as Netflix to reconsider. We need more rom-coms with time travel and explosions and intergalactic stunts. Or, rather, we need at least one. Johansson, frankly, would have been the perfect star of such a project, given her Marvel and He's Just Not That Into You bonafides—can you imagine her opposite Daniel Craig reprising his role as James Bond, driving through three explosions and 10 car chases scaling a mountain to get to their own wedding on time?? Or, say, Florence Pugh riding atop a subway car fresh off completing a mission, trying to make it to her Hinge date??
It sure sounds like Meyers was ready to give us that. May we never forget what they took from us…