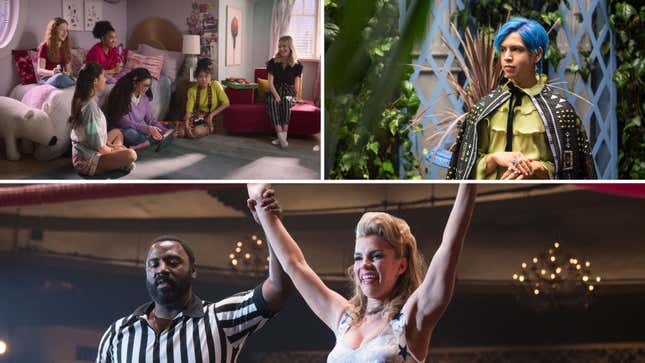 I'd call it emotional manipulation: A streaming service feeds you a show so overwhelmingly perfect that you blow through it in one single weekend, and for the days that follow, it's all you can think about or feel about or dream about. Your anxious, mangled little heart is in its hands. Then, just as you decide to trust again, the show gets canceled, and you're flung into the seventh level of streaming purgatory. Sure, Emily of Emily in Paris fame greets you at the door, and yes, her jaunty hat is cheering, but she can't fix you. Without an end to your favorite story, you're just some loser with a Roku remote. Who could possibly love you? Not Netflix!

I realize that this is an…unhealthy reaction to a TV show getting canceled. But as with a round of media or tech layoffs, when cancellations are announced (often after only one or two seasons), my Twitter feed becomes a funeral march for shows like Warrior Nun, First Kill, Daredevil, and Anne with an E.
And while HBO doesn't axe with quite as much vigor, it has undertaken the morally dubious endeavor of completely removing shows from its platform sans warning, like Westworld and Love Life. Like angry fans, some of these shows' creators have spoken out about their lack of agency or even ownership of copies of their creative endeavors. Thankfully, a few, like the Minx, get rescued by other streamers or studios. The rest? Maybe they live on in DVD form? Get rehomed on Tubi?

There are indeed moments when I feel schadenfreude, as Rachel Syme put it in her enlightening (depressing) New Yorker profile of a Netflix exec who champions shallow same-ness across the streaming platform, when one of these massive corps makes the wrong fucking choice. But also, I feel sad. And lonely. And incapable of pledging fealty to the eighteenth latest romantic drama with third-grade-reading-level dialogue and a wafer-thin plot that Netflix is trying to shove down my throat because it was cheap to make. And they'd probably cancel it, too. Just like they and other streamers did with these 12 shows beloved by the Jezebel staff. —Sarah Rense