Food porn time! The new Dean & Deluca catalog features a dark chocolae cake, a fresh pear tart and tons of candy. Grab a fork!
The tattoo-inspired "I Heart Mom" cake on the cover is cute, but unfortunately the timing leads us to imagine Jesse James giving it to one of his mistresses. Also, we've learned that when there's no price listed on an item, we can't afford it anyway. Let's move on.
The "Spicy Dark Chocolate Tiles" are 72% dark chocolate, blended with organic coffee and spiced with cardamom and cayenne pepper. Sounds like the perfect 4pm pick-me-up!
G/O Media may get a commission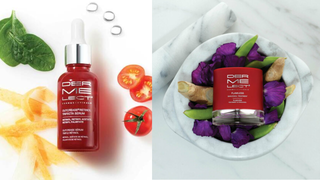 Save $19
Retinol Renewal Kit
I suspect my mother would turn her nose up at the Mother's Day cookies — even if they are hand-cut sugar cookies with lemon-flavored confectioner's sugar icing and cut into the shapes of high-heeled shoes, hats, handbags, canaries, butterflies, ladybugs, leaves and honey bees. My mom likes butterflies — a lot — but if these cookies were to represent her life, the other shapes would be: iPhone, airplane, lost reading glasses and MBT shoes.
The "Mommy And Baby" cookies below — shaped like barns and barnyard animals — remind me of the Fisher-Price barn we had when we were kids. Didn't something go "Moooo" when you pushed it?
Mmm, what have we here? "Rich, moist, almond-infused cake" with a "praline buttercream center" coated with a crunchy topping? Yes. Yum.
The "Mother's Day Cake" at the top of the page is dark chocolate cake layered with "dreamy" caramel-vanilla cream. Then it's "wrapped" in dark chocolate ad decorated with dark chocolate leaves and white chocolate blossoms, tinted red. Gorgeous! Mouth-watering! And all that dark chocolate is heart-healthy, right? RIGHT?
The "Strawberry Vine Cake" is moist butter cake layered with strawberry mousse — made from fresh berries and fresh whipped cream — and wrapped in white fondant. But since we don't like fondant, we're focusing on the "Gâteau Nuage" cheesecake, which is cream cheese and whipped cream layered with sour cream on a graham cracker crust. Nine inches in diameter? Where's I'm from, that serves one.
When you pay $275 for a rib roast, it really ought to come with someone to insure it will look just like this when you're ready to eat it. Because whether you order it fresh or frozen, when you unpack the box, you've got some work to do.
At the top here we have the "Halva Bomb" cake, which is a coating of dark Belgian chocolate, a thick layer of milk Belgian chocolate cream, nd a "surprising" center of Israeli-made halva (ground sesame seeds and honey). If you serve it half-frozen, it has the "flavor and consistency" of ice cream.
The Key lime pie is made with real Key lime juice, shipped from Key West, which is why it is $65, maybe.
FYI, I have had the "Sweet Couture" cake on the bottom there — except it was pink. It was at a party. The inside — Tahitian vanilla bean cake, layered with chocolate fudge and white chocolate buttercream — was pretty good, but that freaking "quilted" fondant is nicer to look at than to eat.
Egads: Almond-flavored spongecake moistened with rum syrup and layered and frosted with chocolate buttercream? Crushed almonds on the side and a crispy layer of cake covered in caramel on top? Sounds amazing. or maybe you'd prefer the "Café Cream Torte," which is moist hazelnut cake layered with a light coffee cream , finished with a "rich" espresso buttercream and toasted hazelnuts. There's always the "Truffel Torte," which is "classic Austrian" chocolate sponge cake, moistened with rum syrup, filled with chocolate cream and covered with chocolate ganache. The one I'm not sure about is the "Esterhazy Torte," which has almond meringues soaked in maraschino liqueur. But I won't turn it down if you cut me a slice.
The "Smokehouse Sampler" offers hickory-smoked Virginia sausage links, hickory-smoked Virginia bacon and country-style Virginia ham. But what really begs for attention is the Tatte Pear Tart, a rustic pastry of fresh pears, flavored with lemon and cinnamon, on amaretto and rum filling, baked into a buttery crust. Hello.
While all the cakes and pies look divine, I think I'd be tickled to get tins filled with gummy peaches, chocolate-covered almonds, English toffee caramels and milk chocolate raisins. Simple pleasures!
Dean & Deluca [Official Site]
Earlier: 5 Fugly Things Urban Outfitters Wants You To Wear This Spring

April At J. Crew: Floral Rompers & Rugged Dudes Who Are Good With Their Hands
Related: Love Don't Cost A Thing: Valentine's Day At Dean & Deluca
Mackenzie: Hot, Steamy, Scrumptious Food Porn
The Naked Chef: Pfaelzer Brothers Peddle Hot Food Porn