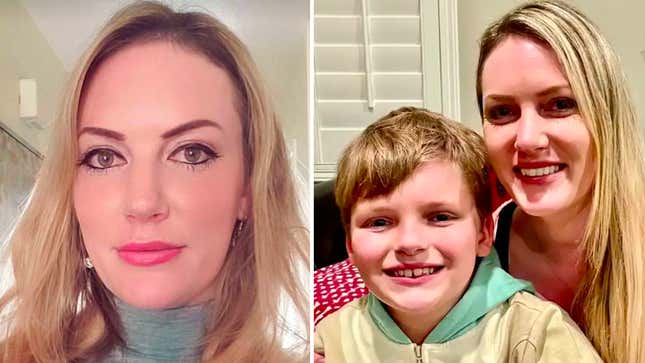 Earlier this month, a first hearing took place for a mother who faces homicide and felony child abuse charges for a November 2020 home birth that ended in her newborn's tragic death. And on Friday, a California appeals court denied a petition that the woman, Kelsey Carpenter, and her legal team filed to have the charges against her dismissed. They argued that she's being improperly targeted for her decision to have a home birth, and cited AB 2223, a California law that prohibits people from being charged for behaviors during pregnancy that could result in abortion or perinatal loss. (AB 2223 took effect in January.)

In the court's decision, obtained by Jezebel, a panel of three judges wrote that the prosecution team met the already low threshold to move forward with its case against Carpenter "by the thinnest of margins."
In 2020, Carpenter, now 33, went into labor early and had a home birth that ended in the death of her newborn, Kiera. Carpenter has said she chose to give birth at home because she feared her baby would be taken from her by the state if she had a hospital birth, due to her substance use. (Carpenter had already lost custody of her first two children when they tested positive for drugs in the hospital.) In text messages sent by Carpenter prior to the birth, which the court references in its decision, Carpenter wrote, "I AM NOT LOSING MY KIDS AND THATS WHAT WILL HAPPEN IF I GO TO THE HOSPITAL."
Following Kiera's tragic death, instead of being offered support services to grieve the loss of her baby, Carpenter was charged in 2021 with homicide and felony child abuse. Together, these charges are punishable with up to two decades in prison. Carpenter has been in jail since February when she missed a hearing because she'd checked herself into rehab.
But Mahathi Vemireddy, a legal fellow at Pregnancy Justice working on Carpenter's case, told Jezebel on Monday that some aspects of the decision are cause for hope. Specifically, the court has prohibited prosecutors from making substance use and the choice to have a home birth from being "the basis of the prosecution," which Vemireddy called "an important clarification of the law" for similar "cases going forward."
During oral arguments earlier this month, San Diego County prosecutors claimed that AB 2223 doesn't apply to Carpenter and that their case centers around Carpenter's behaviors after giving birth—specifically, her approach to cutting the umbilical cord and her slight delay in calling 911 when Kiera was unresponsive. As an attorney for San Diego County, Jennifer Rebecca Kaplan, framed it, "This is not a reproductive rights case. This is a case about massive parental failure." The court agreed on Friday: "Carpenter is not being prosecuted for her choice to have a home birth. Rather, she is being prosecuted for the acts and omissions that jeopardized Kiera's life after she was born and then experienced a medical emergency."
But Amber Fayerberg, an attorney for Carpenter, told Jezebel that AB 2223 does protect Carpenter, because—as the 2021 arrest warrant against her indicates—her case wouldn't have drawn attention from law enforcement were it not for her behaviors during pregnancy and her home birth. Carpenter's attorney also said that the act of cutting the umbilical cord is protected, because "cutting the umbilical cord is an act that is necessarily related to pregnancy" and AB 2223 protects "any acts or omissions with respect to pregnancy, including perinatal death." Criminal charges tied to the outcome of a home birth, Fayerberg said, endanger every person who doesn't have a seamless birth.
Carpenter's legal team says that she prepared extensively to have a home birth, consulting with a midwife and naming her unborn daughter. They say that Carpenter repeatedly sought treatment for her substance use struggles—which emerged after early experiences with sexual abuse—as part of this preparation. Then, after giving birth, she cut the umbilical cord and secured it using cloth and tape, and tried to breastfeed her newborn, but passed out due to significant blood loss. When Carpenter awoke, she found Kiera unresponsive and called 911 after unsuccessfully performing CPR on the newborn. Almost immediately after Kiera's death, Carpenter was taken to the police station and questioned while she was still in shock and physical pain.
Medical examiners have offered slightly differing conclusions about Kiera's cause of death, including a hemorrhage at the umbilical stump and Carpenter's substance use. But one examiner has testified that there's no certainty Kiera would have survived a hospital birth, and Kiera's death is "not a homicide because there's no intent to kill." Vemireddy told Jezebel that the prosecution's case falls apart because "there were so many contributing factors" to Kiera's cause of death—including in utero conditions—and prosecutors can't identify what behaviors from Carpenter, specifically after Kiera's birth, caused her death.
At one point in the court's decision, it states that, even under AB 2223, the prosecution can "[use] pre-birth conduct as evidence" against Carpenter, or else the law could excuse someone deliberately killing their baby if they planned to do so while pregnant. This, Vemireddy said, "seems to be a straw-man argument propped up by the prosecution to justify the specific targeting of pregnant people by the state." She added, "That's not what's happening in this case nor is it relevant to the facts of this case."
People have always faced criminal charges for pregnancy and perinatal outcomes even before the fall of Roe v. Wade. So far in 2023, Pregnancy Jusice has already worked on 30 cases involving the criminalization of pregnant people—the total number of cases it worked on throughout the entirety of 2022.