After a Telegraph report on an internal Condé Nast International email revealed that the company might be blacklisting Terry Richardson, more publications are announcing that they aren't planning to work with Richardson going forward.
Condé US told Women's Wear Daily that they have "nothing planned with Terry going forward," the publisher said. Hearst and The Wall Street Journal's supplement WSJ also confirmed to WWD that they have no plans to work with the photographer.
Meanwhile more brands are also announcing that they don't have future collaborations with Richardson in the works. "There are no plans for a future campaign and of course [we] take these allegations seriously," a rep for Valentino told The Guardian. And Bulgari's rep also said "there are no plans of working with him again." "I can confirm to you that we are not collaborating with Terry Richardson for the Diesel campaign, and also that we don't have plans to work with him," Diesel told The Daily Beast.
The highly publicized assault and harassment allegations surrounding Richardson have existed for years, but publications and celebrities still worked, and continue to work, with him. The New York Times reports that Richardson was commissioned to photograph Zoë Kravitz for Elle's January 2018, a decision made under Nina Garcia as Editor-in-Chief (previous EIC Emma Myers reportedly forbid the magazine to work with Richardson.) But when the Weinstein allegations dropped chief content officer of Hearst Joanna Coles and Garcia decided to nix the Richardson cover and reshoot it.
Richardson also recently shot a cover for W magazine, the first since 2011. An anonymous source tells the NYT that "the magazine had decided it was time to give Mr. Richardson another chance" and editors handled casting and were on set during the shoot.
G/O Media may get a commission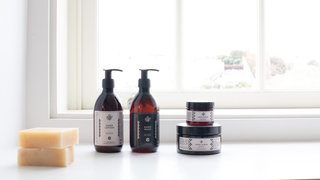 Exfoliate and Hydrate
The Handmade Soap Company
And it's worth noting that many of these statements from brands and publications do not specifically say that these brands and publications will never be working with Richardson again, just that they don't have anything planned right now. Meaning, that could potentially change in a few months when people have forgotten, yet again, that Richardson is a creep.