HBO's Grey Gardens — premiering April 18 — satisfies the hunger fans have for more on the Beale women better than pâté, ice cream and hotplate-boiled corn. We know, cause we got a copy.
Almost everything uttered by the mother and daughter in the Maysles' 1975 documentary, on which HBO's film is based, is quotable, but much of it came off as the delusional ramblings of two women suffering from folie à deux. But by digging into their backgrounds in the new film (starring Jessica Lange and a lispless Drew Barrymore), their motivations and bon mots become much clearer, and often brilliant. Like when Little Edie said, "The hallmark of aristocracy is responsibility." Her parents were pressuring her to get married, as soon as she turned 18, to a man who could secure her future and provide her with the same kind of lifestyle in which she'd been raised. Her father Phelan told her mother that marrying off Little Edie was her job and her "sole responsibility."
Little Edie had a pipe dream of entering show business and didn't want her ambitions to be stifled by marriage and children, the way that her mother's were. However, Big Edie's philosophy on life was a little shrewder, essentially telling Little Edie to marry for money, which will give her the freedom to do whatever she wants. This shed a whole new light on the conversation the two had in the documentary, in which Big Edie told her daughter that she's "not free if [she's] being supported, to which Little Edie replied, "I thought you said you're not free when you're not being supported."
The film shows how and why Little Edie gave up her life in Manhattan (which included an affair with married man Julius Krug, Secretary of the Interior, played by an aptly cast, bloated Daniel Baldwin) to live with her mother at Grey Gardens, as well as the breakup of Phelan and Big Edie's marriage of convenience, a situation that became increasingly inconvenient for Big Edie when she refused to scale back her lifestyle and burned through her Bouvier inheritance. She and Phelan never legally divorced — although he did eventually get a "fake Mexican divorce" — and Big Edie lived off the meager $150 allowance her ex-husband provided for her until his death, when all of his money was left to his "new fake wife."
The Beales' lack of financial stability was evident in the documentary, but no one really knew why they didn't just sell their massive East Hampton estate, as the land alone would've provided plenty of money for them to live comfortably. Here, Big Edie explains her reasoning, when her sons are pleading with her to be more financially responsible in the wake of Phelan's death.
After the county raided their home, Jackie O (Little Edie's first cousin and Big Edie's niece) finally stepped up to the plate and paid for cleanup and renovations to the dilapidated mansion. The relationship between Jackie and Little Edie was a tense one, due to Edie's jealousy over Jackie's celebrity. Her acrimony toward Jackie (played by dead-ringer Jeanne Tripplehorn) is seen here:
Perhaps the biggest question fans of the documentary have had is "What the fuck happened to Little Edie's hair?" It turns out that she had some kind of anxiety condition since she was young, which caused her hair to fall out. After her father died, she was left bald.
G/O Media may get a commission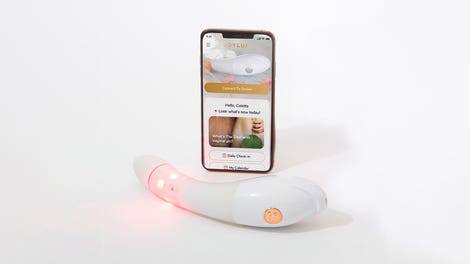 $50 Off
Joylux vFit Gold Device
The best part about HBO's Grey Gardens is that — like the documentary — it shows these women to be nonconformists who would rather cut themselves off from society, than have to give in to its rules. They'd rather forfeit luxury than their dreams, even if it meant that they were just dreamers living in squalor. Finally getting to see the limited choices that life presented to them, their eccentricities now seem seem relatively sane.
It was also fun to see recreations of how the infamous estate looked before they let it go to pot.

And of course, there are plenty of Little Edie's fashions on display. (A gallery of Grey Gardens fashion is coming tomorrow.) And while this isn't the most revolutionary costume, I think it's the best costume for the day, you understand.