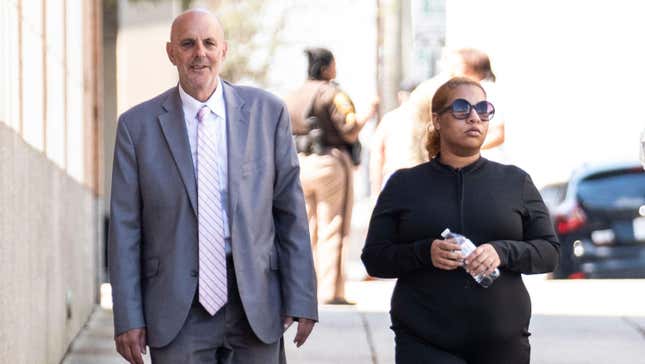 Deja Taylor, the mother of the 6-year-old boy who shot and injured Virginia teacher Abby Zwerner with a handgun in January, said her son "felt like he was being ignored" the week of the shooting.
Watch Alex Jones Realize He's About to Get Busted For Perjury
In an on-camera interview with Good Morning America on Wednesday, Taylor said she was dealing with postpartum depression after multiple miscarriages and a hospitalization. After being charged with both felony child neglect and misdemeanor charge stemming from the gun being accessible to a child, she said she takes responsibility for her son's actions. "I am, as a parent, obviously willing to take responsibility for him because he can't take responsibility," she told the television program.
Taylor said her son had a severe form of ADHD. Up until the shooting, he had been under a care plan that included a parent being present with him in the classroom—but the week of the shooting was the first week the family hadn't accompanied him. That week, Taylor says, her son told her that he "felt like he was being ignored."
The boy was then suspended after breaking his teacher's cellphone. (Zwerner and Taylor disagree on the extent of the damage, but the boy was suspended.) He brought the gun to school and fired at Zwerner on his first day back from that suspension.
Calvin, the boy's great-grandfather, said nothing about his behavior signaled he was about to shoot someone. "It was almost like a normal day for him... He was happy, you know?" he told GMA.
As for the gun, which Taylor purchased legally, she claimed that she last saw it when it was locked up. Her attorney James Ellesnon told GMA that "nobody knows" how the boy was able to get access to the firearm and bring it to school.
Zwerner filed a $40 million lawsuit against the school district last month, claiming officials ignored warnings about the 6-year-old. The school board is trying to get the suit dismissed, saying her gunshot injuries are covered under worker's compensation claims, which Zwerner chose not to use.
Ellenson said school officials should not have even enrolled the child in first grade in the first place, because he'd only completed two months of kindergarten and two months of pre-K. "If they believed all of these behaviors to be true, then they should not have allowed him" into first grade, Ellenson told ABC. "They should've put him back into kindergarten, possibly even pre-K, but at the minimum to kindergarten."
The school district doesn't comment on student records, according to a statement to ABC News.
Calvin Taylor said his daughter should be seen "as a human being who made a mistake."
"Jan. 6 was a terrible day for a lotta people," the great-grandfather said. "A terrible day for the teacher, a terrible day for the kids that was in that classroom, a terrible day for my great-grandson, and a terrible day for the community and my other family members and friends."
"I just truly would like to apologize," Taylor said when asked if she had a comment for Zwerner. "We were actually kind of forming a relationship with me having to be in the classroom. And she is really a bright person."