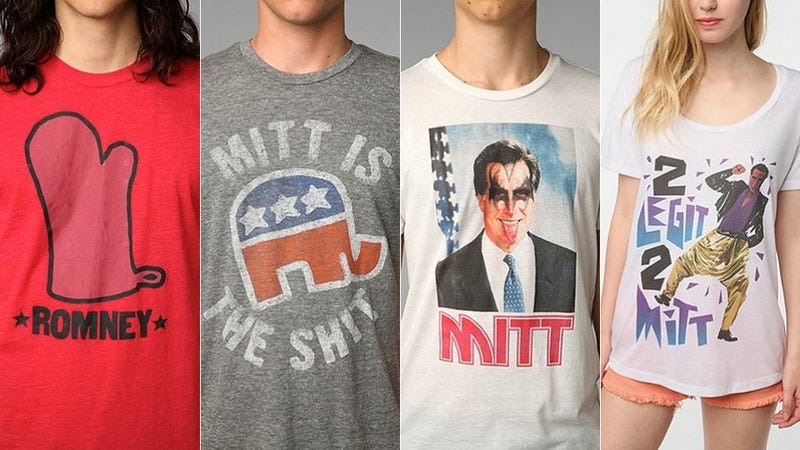 Now that the presidential campaign is over and we can all get back to the hard work of joining together to make America a better place drinking, there's a lot of unsold official licensed campaign apparel (not pictured — these shirts are from Urban Outfitters) to be dealt with. While Obama merch is apparently a strong seller in any season, Brand Romney is not expected to hold much appeal:
"Romney stuff was harder to move," says Bob Levine, marketing director for Madco Printing & Advertising, a St. Louis printer that sold about 400 of its $30 T-shirts to the Romney campaign in Missouri. Now, he says, they may go for much less. "I don't see a major market for this stuff," he says.
Not even among ironic hipsters?
Campaign apparel is typically recycled for its fiber content or dumped on poorer countries. At least, that's what happened to 150,000 McCain/Palin t-shirts after 2008:
By Christmas, many Latin Americans may be sporting Romney gear, says Alan Garada, president of World Trade, a merchandise recycler and reseller that four years ago sold overseas about 150,000 unused McCain-Palin T-shirts donated by the campaign.
---
Peter Brant II is very sorry he said he had a plan to kill President Obama, you guys. [@HarryPeterBrant]
The teenaged billionaire added in a statement, "I would just like to say I never intended to offend everyone...I didn't mean what I said, and obviously I have no intention of killing anyone, Obama is now our president and as such I support him. What Andrew and I said was stupid and I'm sorry to anyone we offended. This is a time when we need to be unified as a country and not let any petty stupid humor get in the way of that." [Fashionista]
---
Alessandra Ambrosio and her four-year-old daughter, Anja, are in the fall London Fog campaign. "These are timeless pictures that we're going to have forever," says the supermodel. "We're going to see them and remember that moment forever." Yeah, that's going in the family album under "Baby's first fashion campaign." [People]
---
Scarlett Johansson is looking very Psycho on the cover of V. [DS]
---
Rihanna and Kate Moss appear in an S&M-themed, Mario Testino-shot editorial inside the magazine. They both look pretty bored. [HighSnobiety]
---
Here's a preview of photographer Rose Hartman's new book, Incomparable: Women of Style. [The Cut]
---
The Cut takes a stab at rounding up the world's 50 ugliest shoes. 16th Century European Chopines, Song dynasty Lotus shoes, Uggs, Crocs, Vibram five-fingers, and Doc Martens all make the list — along with a bunch of Pradas. [The Cut]
---
Vivienne Westwood says, again, that she is not a feminist. Why not? Because women in "the privileged world" don't, in her opinion, need to be.

"Another reason is because I live in the privileged world I would never accept the idea that somehow I am a victim of society. Just by being born a woman!" But she definitely feels that "women in — other cultures, let's call it — should be supported. And in our culture if they are somehow in the position of victims. But I think men are victims just as much really and I think in our society it would be really scary to be a man."

The designer also says she'd like to live at least another 10 years, so she can begin seeing the effects of climate change (an issue she is passionate about talking to reporters about). And also so she can learn Mandarin. "I want to learn to speak Chinese and practise Chinese calligraphy because I think it must hold the secret of the universe." [Telegraph]
Kate Upton campaigned for her uncle, Michigan Republican congressman Fred Upton. Upton retained his seat, winning 54% of the vote. [WHTC]
The Wall Street Journal's Christina Binkley has identified a "new" "trend" in footwear: the "power flat." What, pray tell, is a power flat? Well:

A flat shoe offers speed, better balance and comfort. "We have these lives that are complex and busy," says Brooke Jaffe, fashion director of women's accessories at Bloomingdale's. "We walk all day. And there's an expectation that you'll look polished."

One quality power flats share: They look like if they were used to kick someone — it would hurt. Pointy toes, metal toe caps and embellishments, including spikes, are some of the details that give these flats power. They also call attention to themselves with strong colors, shine or vivid patterns like leopard.

So, um, your basic well-made, low-heeled non-ballet-flats you can wear to work or party in. Hello, we've been wearing those for years; we always just called them "good shoes." [WSJ]
U.K. residents, rejoice: you, too, can now buy the Kardashian Kollection at Dorothy Perkins stores. [WWD]
Karlie Kloss cut her hair into a bob for a Vogue shoot. [Style.com]
A reporter asked Marc Jacobs C.E.O. Robert Duffy how married life was treating him — Duffy married boyfriend Alex Cespedes in 2010 — and received this correction:
"I'm getting a divorce," Duffy snaps. [...] "You're the first journalist I've told. You can tell everyone I'm very happy. My daughter and I — we're doing good."

Also, like everyone else on earth who has taste, when Duffy re-reads Hemingway, "which I was really into when I was a teenager, and now I read it and think [screws up face], 'why was I into this?!'" [Telegraph]
"I talk about fashion all the time," says dude-who-plays-a-sport Victor Cruz. "A lot of guys [in the locker room] say 'Shut up about this fashion stuff.' But I love looking good, I love feeling good in my clothes. So fashion is a big deal to me." [InStyle]
Carine Roitfeld says that Karl Lagerfeld was once arrested on his way to her costume party for violating the French ban on wearing burqas and other face-covering garments in public:

"Karl Lagerfeld decided to come to my ball in Paris [for French Vogue's 90th anniversary] dressed in a burqa so he wouldn't be recognized ... he was arrested outside," she said, "so he didn't come to the party, but there were three our four people that came dressed as Karl Lagerfeld, so it made up for it in a way."

[TDB]
The house of Vionnet changed hands in the wake of the departure of its creative directors, Lucia and Barbara Croce. Goga Ashkenazi, who acquired a majority stake in May, has purchased the remaining outstanding shares from Matteo Marzotto. Ashkenazi, a Kazakhistan-born socialite who has been romantically linked to Prince Andrew and who made her fortune by being a mistress of the Kazakh dicatator's oil-baron son-in-law, named herself creative director of the brand. [WWD]
L'Oréal just opened its 43rd and largest-ever factory. Located west of Jakarta, the $128-million-dollar, 730,000-square-foot facility is the first building in Indonesia to be LEED-certified. At full capacity, workers there will make 500 million units per year. [WWD]
Liz & Dick costume designer Salvador Perez, Jr., says that the wardrobe budget for the T.V. movie was only $155,000. That had to stretch to cover over 100 extras and Lindsay Lohan's 65 costume changes in her role as Elizabeth Taylor. Perez says:

"I've been in the business a long time, and I basically asked everyone I knew for a favor. There was no way we could have afforded to have some of that stuff made—the jewelry, the furs. People had a passion for the project and wanted to help. I had the jewelry re-created by this company Skinny Dog Design Group, and 14 Carats Beverly Hills, and they did it for me at cost. The furs came from an archive in Beverly Hills, too. You have to use the authentic thing, I mean the movie is about Liz and her glamour so how can you skimp on that? If I had not gotten the discounts, if I had to pay for everything, it would have been half a million dollars."

Of Lohan, Perez says, "She definitely had a lot of opinions." Working with her was sometimes difficult: "It was a whirlwind tornado trying to get Lindsay to just sit, but once she did, she was great." [Glamour]
Someone named Julianne Hough now has a shoe line. [WWD]
Nike appears likely to find a buyer for the Cole Haan brand this week. The company is in talks with two private-equity firms: TPG Capital and Ajax Partners. The sale price is put at around $500 million. [WWD]
Hermès says its sales rose year-on-year by 24.2% during the quarter just ended, to $1.06 billion. [WWD]
Yoox's profits grew year-on-year by 72.7% during the quarter, to €1.2 million. Sales also increased in the retailer's native Italy. [Reuters]
Macy's net income was up year-on-year by 4.3%, to $145 million, beating analysts' expectations. [WWD]