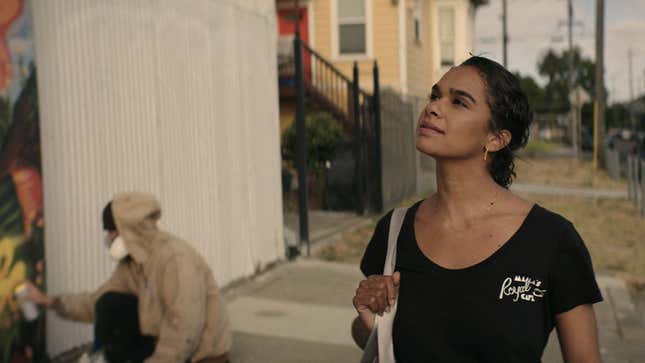 There's a scene in Misty Copeland's new short film Flower that remains lodged in my chest. Having just received an eviction notice, Rose, the character played by the American Ballet Theatre principal dancer, settles down into an armchair in the corner of her living room. Rose had picked up several jobs over the years as her mother Gloria's dementia worsened, waiting tables and teaching children's ballet classes to cover piling medical bills. Exhaustion now sweeps over Rose. She slips her headphones on. One more song, and then she'll deal with reality. She drifts to sleep, fading into the armchair.
Then, Gloria (played by former Dance Theatre of Harlem and Complexions Contemporary Ballet dancer Christina Johnson) is in the doorway, her face animated as she extends a hand to her daughter, inviting her to dance. Startled, Rose hesitates. Her mother—the woman who had folded into herself, all her edges blurred—is in front of her like a ghost. Then she smiles, rises to meet Gloria, and they take off into a familiar sequence, as though mother and daughter have danced these steps in lifetimes outside of this one, swept into the rhythm. Tenderness in motion, they spin and laugh and—Rose jolts awake. The eviction notice weighs heavy in her lap.

This moment from the 28-minute film, produced by Copeland and Leyla Fayyaz' company Life in Motion, shows the ease with which everyday people can slip into housing instability. Using the wreckage of Rose and Gloria's home lives as its narrative vehicle, Flower surveys the destruction in Oakland, California, caused by the Bay Area's housing crisis and intensified by the pandemic. Melding balletic choreography by Alonzo King, founder and artistic director of Alonzo King LINES Ballet in San Francisco, with music composed by Grammy Award-winning artist Raphael Saadiq, it also calls upon Black silent films of the '20s to portray the emotions of a community in crisis. And without dialogue, its most breathtaking displays of humanity happen on the faces and bodies of its artists.
On Friday, Copeland spoke to Jezebel ahead of a public screening of Flower at the Lincoln Center after its debut at the Tribeca Film Festival. We know Misty Copeland the dancer, who in 2014 became the first Black woman to perform the lead role of Odette/Odile in ABT's Swan Lake, and in 2015 became the first Black principal dancer in the company's history. Here, we meet Misty the humanitarian, the auteur, the mother. After three years away from the stage and the birth of her son Jackson, she's returned to ballet in rare form: raw, nerve endings exposed.
The following conversation has been edited for clarity.
---
JEZEBEL: Considering the sheer amount of content produced around the housing crisis that relies on tired tropes, the empathetic manner in which you've approached this issue feels significant. In Flower, the three unhoused individuals your character speaks to are the only actual voices heard in the film. Can you tell me about that choice?

MISTY COPELAND: We went back and forth with our director Lauren Finerman on this. We wanted to show the community, but we wanted to be respectful. Would they be comfortable on screen? What were those boundaries that we didn't want to be disrespectful of or cross? Because the film is not a documentary: It's actors dancing and telling the story. We briefly discussed having dancers or actors portraying the unhoused, and we decided that's something we wanted to stay away from. The question then became, how do we really capture them and their voices in a real way?

So we went in secure and planned and intentional, and had an honest conversation with members of the community. We asked, "What has your life experience been? How did you end up here?" And we just let them talk. We had no idea what we were going to do with the footage. We had discussed having them on screen, but not hearing their voices and possibly having their voices play over the credits at the end. But then we decided to just see what it felt like when we hear them and see them in the middle of this film. And it felt so right. It's this juxtaposition of showing the power of storytelling without using your voice, but then, we needed to hear their voices and see their faces, because the houseless look so different from the stereotypes people draw on. The character that I portray, for example, is right on the edge of losing her childhood home and working two jobs and taking care of a mother with dementia.

What was it like for you to inhabit that character? I know you also experienced housing instability throughout your childhood.

One of my favorite things about performing and being a ballerina is the acting and the storytelling through movement, so it's exciting to be able to take on a character I've never played before. I tried my best to listen to people around me and the things that they've gone through. Our executive producer Nelson George is dealing with something similar with his mother, and just listening to the way he interacts with her and the way she responds to people or certain situations…I really took a moment to try to understand people in similar situations.

There was also a small bit of my own life experiences that I could draw from. I grew up houseless for a lot of my childhood and know what that feels like to not have stability, to not have real structure in your life, and to not know what tomorrow might look like. Our director Laura also did an incredible job of coming onboard and collaborating with me in the studio as the choreography was being created, and helping me develop the character.

You've mentioned that art can sometimes feel inaccessible and that watching art is an activity you'd like to "normalize." What do you think it is about artistic movement, and ballet in particular, that feels so inaccessible to the general public?

I mean, look at ballet's origins. It's a European art form that has been very exclusive for hundreds of years. They tend to not—I say "they," but I'm a part of it—we tend to not tell stories that are relevant to the times. But what's so crazy and what's so interesting is that everyone has such an innate connection to movement—every human being, every community, every culture around the globe. It's such an intrinsic part of who we are. Babies come out and they want to move their bodies. So, let's get back to the root of why people are drawn to movement and not put ballet in this bubble of elitism. That's been my mission and purpose since I started dancing.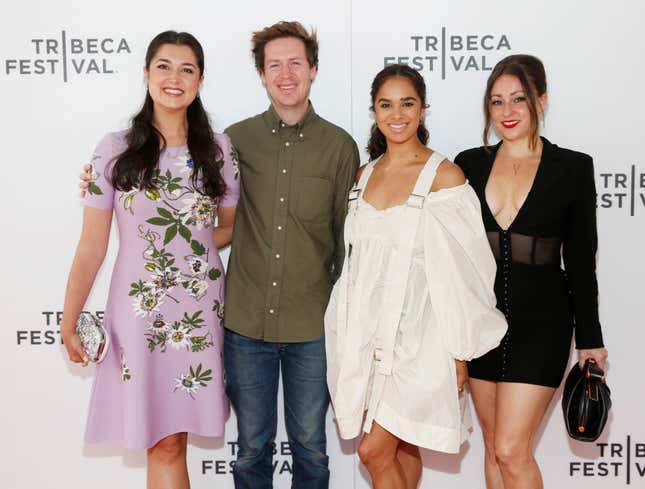 Last year, City Ballet commissioned Solange Knowles to compose an original score. That evening, the audience was filled with so many young people—more than I'd seen at a ballet performance in a long time, and many of them people of color. But at the same time, it sounds exactly like the audience you described when you made your debut in Firebird almost a decade ago. What else do you think can help move ballet forward? Is it choreographers? Is it collaborations?

Yes, I was there for that! All of those things help, obviously, and audiences want to see themselves reflected onstage. But it's so much deeper than that. It's the board of directors, needing more diversity there. They're the ones that hire the artistic director and the executive director, and then it trickles down from there and sets the tone for what a company or a school will look like. It's a lot deeper than just putting people of color in those creative positions, but we need to see teachers that can connect to students who for generations and generations have been told, "This isn't an art form for you." Or, they're not given the proper nurturing, or guidance, or in a lot of cases are just told that ballet is not something that your body is capable of, or should be doing. I think it's about consistency and not just having these creatives pop up every couple of years and then draw a crowd one time.

I want to talk a little bit about your journey into motherhood. We don't often see stories of pregnancy represented onstage. You mentioned that you were "very pregnant" while filming the final pas de deux in the film. What was it like dancing while pregnant? Did it feel as though your relationship to dance changed in that moment?

To be honest, I didn't feel a huge shift, other than recognizing that this clearly wasn't the body I've been dancing in for the last 20-plus years. I was so pregnant, I was throwing up the whole last filming day for Flower. But I will say that Alonzo King, who choreographed a lot of the ballet parts of the film, said to me, "Oh my gosh, you're a completely different dancer right now." He was referring to the intention of the movement and just being present and my connection to this character. I guess that's it, then: I was really in my body and really present, as terrible as it felt.

As a professional dancer, you also inherently have an interesting but close relationship with pain. You pushed through what could've been career-ending stress fractures while you were trying to get promoted to soloist in ABT. How did this sort of pain—of motherhood, that is—feel different to you?

It felt very similar [to the pain I've experienced in dance]. People look at me like I'm insane when I say this, but when I was going into labor, and when I gave birth, it felt like such a familiar feeling. It was the feeling of preparation, the training, and then the calm before the storm, which is like the calm before you go on stage and perform. That mental preparation, that mental strength…oh my gosh, it kicked into high gear when I was giving birth, and it was unbelievable. I knew exactly what my body was doing and what it needed to do, and it kind of took over. Like, push the doctors aside, I know what I'm doing, don't push my legs back to my ears [laughs]. It was an incredible experience. It was like coming off stage… It's that euphoric feeling that takes place when you've put so much into something, and it's so gratifying. That's what birth felt like.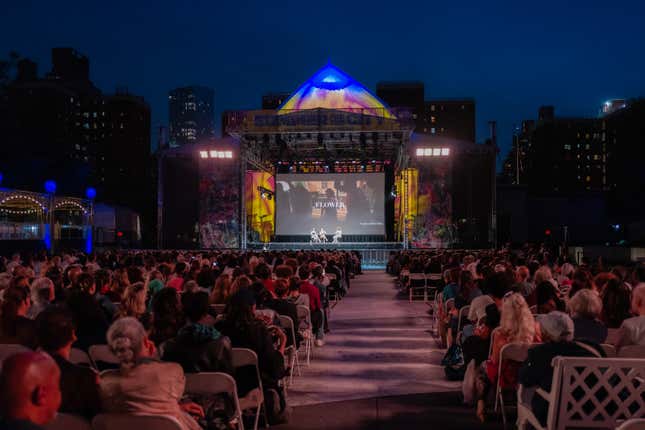 I don't think that's crazy at all. You've learned to tune out any sort of negative feelings and just dance. This experience sounds very similar to that.

Yes, one hundred percent.

Are you still set to return to the stage with ABT in the fall?

I'm on pause right now, because I've got a lot of other pots on the stove. I'm trying to focus on these things that are just as important as me being on stage, and to allow myself not to take my foot off the gas and really get the ball rolling with my foundation and with the production company. And of course, focusing on my family. So, I don't have an exact date of when I'm going to return, but I will absolutely be on stage again, at some point.

That's really exciting to hear. Especially because the dance world has seen a sort of fearlessness and ferocity from you that seems to have become more bold in recent years. I imagine it's complicated to walk that line—where you are connected to an institution, but you're also an activist trying to change the very foundation of those institutions. How on earth do you balance that?

I've always tried my best to be respectful, while being honest. If I couldn't be honest and was getting negative pushback from my own company, then I wouldn't be in that company. I've been so fortunate to have Susan Jaffe who's [the artistic director of ABT] now, but Kevin McKenzie, who was such a supporter of mine and allowed me to have real conversations with him throughout the journey of my career while he was artistic director. It's exciting that Susan is there, as well, because I think she has an open mind and an understanding of this generation in a very exciting way, and she's been a mentor of mine for most of my career, as well. But I need that type of support in order for me to be real, because I want to see real change. It's not just about putting down the ballet world. I want to uplift them, and I want to motivate them to be better and to see a brighter future for what ballet can be. It should be growing, it should be embracing new ideas, and it should be keeping up with the rest of the world.

You've placed the futures of so many young Black ballet dancers on your shoulders. I can't imagine that's been easy on your mental health.

I'm so lucky to have incredible support in my life and have people that understand the journey, maybe not directly in the ballet world, but being the first in their field or as a Black person, or as a Black woman. I try not to get caught up in how people react to the things I say or the things I post, and just know that it's coming from an authentic place. There are moments where I felt like there were so many eyes on me, I'm gonna be judged. But all of this serves such a bigger purpose. All you can do is be your best, do your best, be as best prepared as you can be, and then go out there and deliver and have fun.

We've talked about your production company. You also have a foundation and an activewear line, and, not to mention, a family. Still, what is it about ballet that keeps bringing you back?

It's healing. It's community. It's being a part of something that's bigger than you. For me, it's not just that I want to get back on stage, and I want to be front and center and shine. It's the journey. It's being in the studio. It's having a moment in the day where you're completely removed from your computer and your phone, and you're just present in the moment with music and movement. That, like I said, is so healing.

Speaking of healing! Something that you've said about Flower is that "art is what steps in when words aren't enough." How do you think that art and movement can help us process our rage right now?

I think that it's important for us as a society to not give up and not feel defeated. There's always tomorrow. There's always the next day, and we have to continue believing and fighting, and I think that art has such a bipartisan way of doing those things… Art can always heal in these moments.