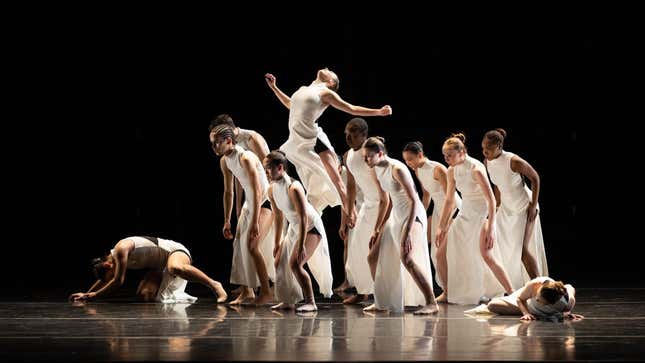 On a December evening, audiences looked on, amused, as the senior class of Juilliard students clamored over one another to grab a microphone onstage. The dancers stumbled around, some manic, others deliberate, before rattling off disjointed memories and repeating jumbled phrases like a cassette tape pausing and rewinding ad nauseum. The movements were inspired by the late saxophonist John Coltrane, who said of performing: "I start in the middle of a sentence and I move in both directions at the same time."
New Season of ESPN+ Series Celebrates HBCU Dance Teams
Such is the current state of dance at Juilliard as the program works to preserve select traditions while transforming itself from a homogenized thing of the past to a model of progressive dance education. In 2018, the school hired Alicia Graf Mack to head up its dance division, making her the youngest person, and the first woman of color, to lead the dance department in the institution's 70-year history. Now in her fifth year, Mack's tweaks, additions, and overhauls are beginning to spring to life.

"I believe that ballet is one of the most brilliant movement technologies that a dancer can embody, and it's our responsibility to make the movement ideas relevant for today's artists," Mack, a former dancer with Alvin Ailey American Dance Theater and principal with Dance Theatre of Harlem, told Jezebel from her office at Juilliard. "What we must do is address some of the challenging cultural norms of classical ballet that have not shifted with time."
The department's December concert, New Dances, credited the dancers on the mic as "in collaboration" with choreographers Jermaine Spivey and Spenser Theberge, rather than the typical top-down power structure. Each class of dancers wore near-genderless costumes. And the stage no longer seemed a shrine to the sort of nepotism and privilege that have come to define uppity arts schools, instead presenting a future in which potential can take precedence over access.
Last year, Mack told Dance Magazine she is "not in the business of repression": a statement indicative of a cultural shift in the world of dance and a stark departure from the realm of classical ballet—where gendered roles and costumes are the norms, and women of color are still a rarity. Mack's staggering influence on the school, then, is both a sign of the times to come and a boon to the next generation of artists studying at The Juilliard School.   
---
It's a Thursday afternoon in November, which means all four classes of dance students are rehearsing at the same time: practicing Horton, Cunningham, and Graham techniques. Just across the street from the Lincoln Center, Mack leads me through the Juilliard building, where dancers lay around stretching and echoes of musicians warming up their instruments drift down the hallway. We peek our heads into a studio and hear an instructor complimenting a student: "Julie, you are working so wonderfully today." The room is a kaleidoscope of cropped shirts, hoops, and brightly colored hair and leotards. One dancer wears a Seahawks jersey. Most ballet studios require students to wear black leotards and pink tights, but Mack says they don't have a dress code at Juilliard other than form-fitting clothes that show the dancers' muscles at work.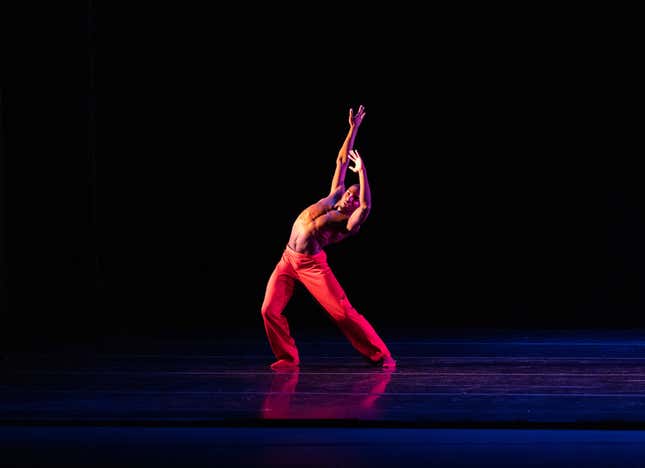 We tip-toe into a second room, where we find the first-year students, all around 18 years old, learning the work of Martha Graham. A live pianist plays in the corner as the instructor pushes the dancers to send their center of gravity diving over to one side: "I'd rather see you go to the edge and fall off of it. Then you know where you need to be."

Mack's work reshaping the 71-year-old division has been a series of swan dives in itself, though many have been informed by student suggestions. In an industry where intimate touching has long been diminished as part of the job, instructors now ask for consent to offer tactile guidance to students at the beginning of the semester. At the beginning of her tenure, Mack had to meet with guest artists beforehand to remind them to ask for each student's pronouns—something they now do without being prompted. She's also prioritized anti-racism education with a new series of lectures exploring the "influence of Black culture in American dance" from slavery, minstrelsy, and vaudeville, as well as highlighting the work of Black composers who were once erased from dance pedagogy. And whereas women and men once took gendered ballet classes, those classes are now offered as "pointe" and "allégro" and open to any self-identifying gender.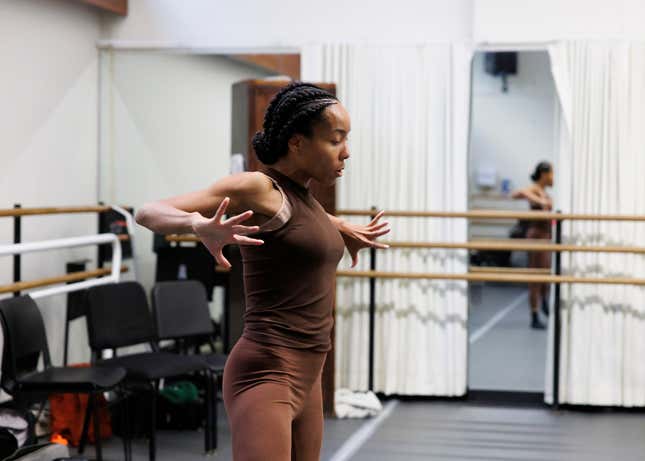 "If you can't be yourself in the spaces where you're supposed to be learning, how can you grow?" Mack said. "A dancer can learn by taking pointe, a dancer can learn by taking allégro, whichever one they want to choose is all right with me as long as they're in the room, present and learning."

In classical ballet, Mack says, the work includes "gender codified learning": the port de bras, or the movement of the arms as part of traditional technique, for example, is often set differently on men and women—not unlike how women have historically been cast as fairies, princesses, or delicate birds in popular narrative ballets, while men play princes, sorcerers, and soldiers. Rather than erasing ballet's gendered past, Mack says Juilliard's instructors demonstrate how each move has typically been presented, before allowing the students to make their own artistic choices about the movements.
A self-described tall brown ballerina in a world of petite white women, Mack has also been prioritizing commissioning people and women of color for original works. Grabbing a sticky note in her office, she counts out seven Black women choreographers in four years, one of which is Sidra Bell, the artistic director of Sidra Bell Dance New York and the first Black woman to be commissioned by New York City Ballet in 2021. Mack commissioned her to create an original work, Yielding, for the sophomore class' New Dances concert this year.
"Figuring things out together in a way that is truly collaborative and requires a lot of trust is a model of how we wish the world to be," Bell told Jezebel in a phone interview of her time working with the Juilliard students. "That's the beauty of the artistic practice: It's a model for human connection and human dialogue and working together to build community."
---
Much of the ballet world likes to act as though their art form is a fossil preserved in amber when, in reality, its purveyors have dug their heels into ancient, ignorant, and sometimes offensive customs until public demand becomes too overwhelming to ignore. Queer love and partnering have only just begun to make their way onto some of America's most renowned stages. Changes to the typically racist and caricatured Chinese section in the holiday bonanza The Nutcracker are finally being made en masse, despite protests from company board members that traditions must be protected. And choreographers, artistic directors, and principal dancers, who once enjoyed relative immunity from sexual harassment and assault claims, are finally getting a taste of accountability (at least before they're whisked off to another company to resume their work).

When I asked Mack what she hopes the next phase of discourse around professional dance might be, she said: "I hope we'll be talking about quality of movement and dancing and skill, and not the body that encapsulates the art."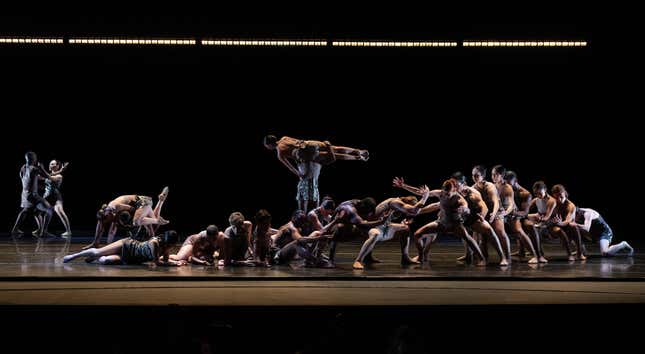 That's not to say the department is perfect, nor that its progressive magic has seeped into other departments of the school. A former Juilliard music professor and current music division faculty member have been accused of sexual misconduct in the late 1990s and 2000s, and survivors say the institution knew about the allegations for at least four years without taking significant action, according to NPR. (Juilliard says it placed this faculty member on leave and commissioned an independent investigation when it became aware of additional information in December 2022.) The institution on the whole is still at the mercy of wealthy donors and stands tall as the embodiment of inaccessible intellectualism. But in the dance department, the generational shift long prophesied has already taken place, and it is nothing but joyous.
"We could be a model for the professional industry and say, 'Look what we're doing here. Look at how incredible these students are, and how they're thriving, and, you know, maybe there are some ideas that you could adopt as well,'" Mack said. "It's not a rejection [of ballet], of course, but it's continuing the conversation, which I think is really beautiful. Nobody would be a dancer if they couldn't think about what the field could be."