Welcome to Big Time Small-Time Dicks, a regular column on The Slot that explores local politicians, small-town scandals, and everything else making life miserable on a local level. Know a small-time person who is a big time dick we should feature? Email us.

Mike Moon, a Republican state representative in Missouri, recently introduced House Bill 1014 which, according to the bill's description, "requires the Missouri State Museum to include a display on the history of abortion." In addition to requiring the state museum to display a surely one-sided history of abortion, the bill, which he calls the "Never Again Act," also requires that curators at the museum install the imaginary exhibition "near the existing exhibit on the history of slavery."
In a press release sent to constituents, Moon said that the exhibition, as he envisions it, "would display tools used and the effects those same tools have on the aborted victims." Items for Moon's (again imaginary) exhibition would be drawn from the Grantham Collection's Abortion Instruments and Photographic Archive. While that might sound very official and legitimate—save its web domain abortioninstruments.com—the Grantham Collection is unsurprisingly an anti-abortion site that collects and dubiously labels medical instruments supposedly used in abortion procedures as well as videos showing abortions.
Though Grantham claims on its site to be a non-partisan view into "what the abortion industry does not want you and the world to see," it is very clearly partisan. The group was referenced by Carly Fiorina during a 2015 Republican primary debate, during which she claimed to have watched "a fully formed fetus on the table, its heart beating, its legs kicking." Fiorina attributed that video to David Daleiden's Center for Medical Progress. Though the video was produced by CMP, it used video taken from the Grantham Collection's partner, the Center for Bioethical Reform. On their website, the Grantham Collection describes the Center for Bioethical Reform as a "lifetime partner in graphically awakening the consciousness of all people," adding that, "their tireless work on the behalf of the pre-born is truly inspiring." Truly.
G/O Media may get a commission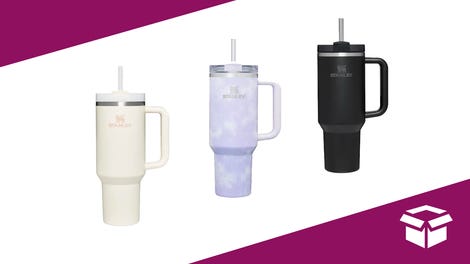 Up to 45% off
Stanley Cup Sale
Missing from the Grantham Collection, and surely from Moon's imaginary museum exhibition, are actual women, either women who have been saved by the procedure or whose health was preserved through its legalization. But hey, this isn't actually about women. It's about civil rights or, maybe, according to Moon, slavery and the Holocaust. "The number of lives lost by abortion is more than we lost during slavery and during the Holocaust," he said in the press release sent from his office. "We need to start looking at abortion in the same light as we do both of those tragic events."

When Moon isn't busy conjuring up museum exhibitions, he's busy at work sponsoring other anti-abortion bills. He is also the sponsor of House Bill 709, a bill that mandates that life begins at conception. Moon seems to have a lot on his plate.