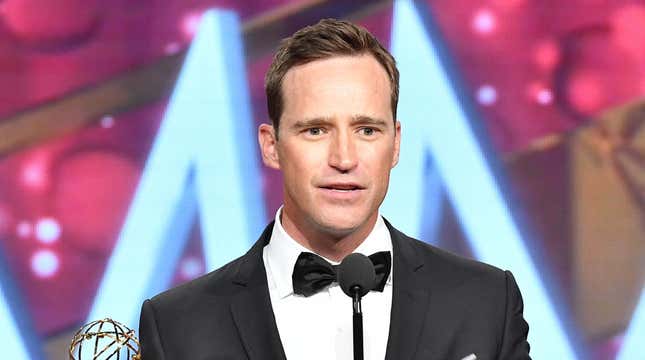 You know how Jeopardy! finally figured out who was going to replace the late, great Alex Trebek as host of the long-running syndicated game show? Well, never mind because no it didn't.

Revisiting the Ethically Dubious Singing Show, Superstar USA
Mike Richards, the Jeopardy! producer who was named as one of the series' co-hosts last week alongside Big Bang Theory star Mayim Bialik, announced on Friday that he was stepping down "effective immediately," ABC News reports. Why? I mean, there's the sex discrimination claims from when he was producing The Price Is Right; his history of saying really fucked-up shit about women, fat people, homeless people, the entire nation of Haiti... The list, unfortunately, goes on.
Who will replace Richards? Unclear at press time! ABC News says the network's search is back on. Maybe they'll go with frequent Jeopardy! guest host LeVar Burton like they probably should've done in the first place?
"Happy Friday, y'all!" Burton tweeted shortly after Richards' announcement, per Deadline.
---
I don't really know who Vanessa Grimaldi and Joshua Wolfe are, but these two Bachelorinas got married!!!!!! [Us Weekly]
There's going to be a Birds of Prey spinoff centered on Jurnee Smollett's character, Black Canary. [Deadline]
The Kardashian-Jenner rat king grows ever larger! Following Caitlyn Jenner's tease to the press that she was expecting another grandchild, an inside source has confirmed that Kylie Jenner is going to have another kid with Travis Scott. Burt Jenner, one of Caitlyn's pre-Kris Jenner kids, is also going to have another child with his girlfriend, Valerie Pitalo. [Page Six]
Death comes for us all: Miranda Cosgrove announced that she has found some grey hairs. [Hollywood Life]
You know, I got really excited when I read a headline about how The Addams Family 2 was getting a theatrical release later this year. Me, Mrs. Idiot? I thought that I was about to watch Addams Family Values in theaters some 28 years after missing my chance the first time (in my defense, I was 5 when it came out). But it's just the sequel to that CG or claymation or whatever the fuck new-ish Addams Family adaptation. Good for them, perhaps. [Deadline]
SPEAKING OF JOAN CUSACK'S FINEST WORK: