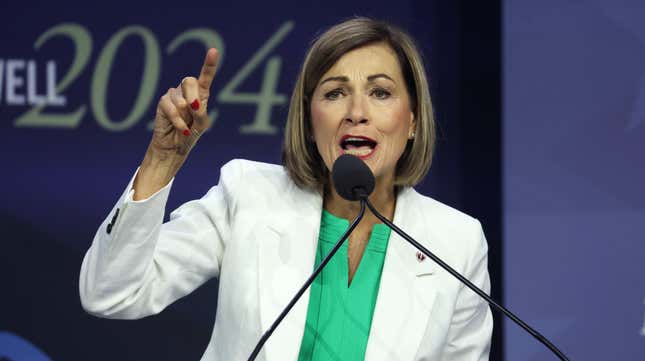 Iowa Gov. Kim Reynolds (R) signed the state's 6-week abortion ban into law at an evangelical Christian event in Des Moines on Friday. Though the law takes effect immediately upon her signature, pro-abortion advocates were in court this afternoon attempting to block the legislation.

Missouri Wants to Trap Its Own Citizens
Reynolds signed the bill at the Family Leadership Summit, an evangelical Christian event where many presidential (and VP) hopefuls show up. "Our work is not done," Reynolds told the crowd. "As we gather here today at this very moment, the abortion industry is in the court trying to prevent this law from taking effect and stop, once again, the will of the people." (The will of the people in Iowa is to support abortion, according to a March poll.)
The six-week ban was passed late Tuesday night after Reynolds called the last-minute special session for the "sole purpose" of enacting anti-abortion measures. After 14 hours of debate, the bill passed just after 11 p.m. on Tuesday. Observers booed and shouted "fascists" at the Republican lawmakers.
On Wednesday, the Emma Goldman Clinic in Iowa City, the American Civil Liberties Union of Iowa, and Planned Parenthood of the Heartland sued in state court, arguing that the ban still violates the state constitution. Still? Yes, you read that right. The bill signed into law on Friday is nearly identical to a law that the state Supreme Court permanently blocked from going into effect one month ago. But that ruling was a split ruling! So Reynolds used that—plus the fall of Roe v. Wade—as an opening to demand Republicans pass a new six-week ban.
Democratic state Sen. Janice Weiner said the immediacy of the bill showed "incredible disrespect" to the state's doctors, who are already struggling in women's health education as there is only one accredited obstetrics and gynecology program in the entire state. Weiner said the state should change the "Welcome to Iowa" signs at its borders to "Iowa: Handmaid's Paradise."
It wasn't just lawmakers that were upset. More than 100 residents signed up to speak during the public comment portion on Tuesday. Felicia Hilton, a resident of Des Moines, laid into Republicans pushing the bill. "You guys are lying to yourselves and you're offending everyone, including God. You're offending God," she said. "This state is ridiculous. This stupid, stupid ridiculous self-righteous crap."

Republicans tried to assuage Democrats by saying the bill includes exceptions for rape and incest survivors and maternal health. However, abortion ban exceptions are notoriously hard to access and are usually added in only so Republicans can feel better about restricting bodily autonomy. With Iowa's law, in order to obtain an abortion after being raped, you must report the rape to either law enforcement or a "health agency" (like your doctor) within 45 days. Incest victims who wish to obtain abortion care? They have 140 days to report the crime.
"If this abortion ban goes into effect, it will place an unacceptable burden on patients' ability to access essential abortion care, especially those who already face systemic inequities," Ruth Richardson, President and CEO of Planned Parenthood North Central States, said in a statement on Tuesday. "Hundreds of Iowans will be impacted in mere weeks. We refuse to stand idly by and will fight every step of the way to block this abortion ban and restore Iowans' rights."