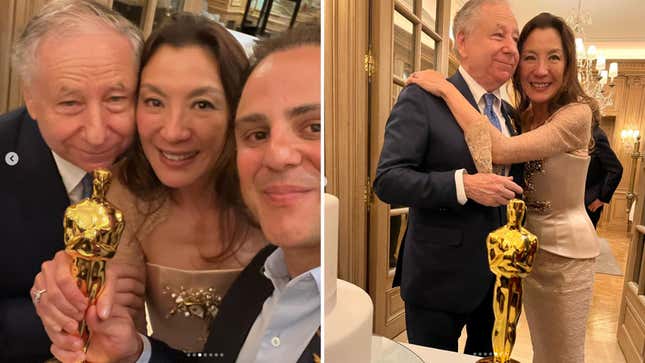 You know what I consider to be incredibly chic? Meeting a wealthy older French man in the summer of 2004, getting engaged to him after seven weeks, and then waiting 19 years until you've won the highest achievement of your career to actually marry him. That's exactly what Michelle Yeoh did and I commend her for it.

What's Next for Oscar Winner Michelle Yeoh?
Yesterday, Yeoh and her longtime fiancé, the former CEO of Ferrari (vroom vroom, amirite?) Jean Todt wed in Geneva, Switzerland. One guest, F1 driver Felipe Massa, who thankfully suffers from posters' disease, shared the only photos the public has seen of the event. It looked incredibly classy, filled with childless rich people over 55, and held during the daytime. That feels like a sign of true wealth—having your friends just hop over to Geneva on a weekday to attend a lakeside darty where the dress code appears to be "business elegant."
A program detailing the newlywed's love story read:
We met in Shanghai on 4th June 2004.

On 26th July 2004, J.T proposed to marry M.Y and she said

YES!

Today after 6992 days on 27th July 2023 in Geneva, surrounded by loving family and friends, We are so happy to celebrate this special moment together.
The photo above this message shows Yeoh holding a pen while posing for a photograph with Todt, as if she is signing an autograph for him. And I hope he's asked her for one on every single one of those nearly 7,000 (!!) days because he realizes how lucky he is to be with this goddess of a woman.
What really caught my eye about this wedding, however, is that in one of the photos Massa shared, he's posing with the couple, and Yeoh is holding the Best Actress Oscar she won in March for her performance in Everything, Everywhere, All At Once. In another, he's posing with just Yeoh, and the statue (sorry, Todt). In a third photo, the statue is placed beside the wedding cake and in the front of the frame as the couple poses. To all this I say: Yes. Absolutely. I love it.
Consider this permission—inspiration really—to showcase your career and life achievements at your wedding. Forget the lovey-dovey romantic decorations. Print out copies of your PhD dissertation and hang them around the venue. Have guests sit down and listen to you list out the specifics of a big deal you closed. Pose with your little medal from HR saying you had the best attendance at work. Whatever it is, I say lean into it.
So, congrats to Yeoh for her long-awaited nuptials. Congrats to Todt for marrying Yeoh. And congrats to them both for allowing a third man, Oscar, to share the limelight on their big day.