César Ramirez, executive chef of the three-Michelin-starred Chef's Table at Brooklyn Fare in New York City, apparently really doesn't like Asians, and treated them so terribly that several of his former sous chefs and servers are now suing the hell out of him for it.
He allegedly routinely referred to them as "shit people"* and refused to allow them to be sat near his section of the restaurant's counter — at one point when a server sat one of these tables there anyway, he flew off the handle and started screaming and yelling at her (thereafter, he took control of the seating himself to prevent it from happening again). He also openly dictated that "shit people" (by which he meant both anyone who looked even vaguely of Asian descent and people he suspected were from Manhattan's Upper West Side) were to be given the crappiest scraps of meat. Chef's Table, just as a reference point, costs $255 a plate, along with a $50 service charge.
Oh, but guess what? Ramirez wasn't just racist, he was also a thief: the suit also alleges that Ramirez, along with owner Moe Issa, stole from them, neglecting to pay them overtime (straight-up refusing to, even when staffers were working 70+ hours per week) and stealing their tips. Granted, both of these are such common practice within the industry that restaurants that don't engage in them are, while perhaps not unicorns, definitely at least narwhals. That still doesn't make them legal.
For all of these reasons, former staffers Emi Howard (the Asian-American server who once committed the grave sin of seating an unapproved table near Ramirez's august counter section), Kyle McMahon, Loren Mash, and Santos Hernandez are suing him for unspecific back pay and damages.
Here's the thing: I have a hard time believing everything they say isn't true. First, because discrimination is rampant within the food service industry, but even moreso because this many people wouldn't be coming forward with the same story — not to mention taking legal action — if this wasn't really bad. The first point leads into the second: considering how commonplace discrimination and racism is within the industry (especially towards customers, who are generally regarded as The Enemy), Ramirez's actions had to be particularly egregious to warrant a suit (and they were). You can say these are former employees with an axe to grind, and maybe that's true, but someone has to be a completely repugnant asshole to have that many employees with a sharp enough axe that they'd go as far as a lawsuit.
G/O Media may get a commission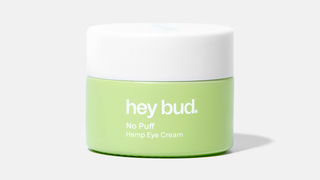 15% off
Hey Bud - No Puff Hemp Eye Cream
It's ironic if unsurprising that Ramirez would be such a dick to Asians/Asian-Americans considering Chef's Table is a French-Japanese fusion restaurant. Then again, this is the restaurant industry, where bigotry doesn't have to make sense; it's just an inexorable part of the Circle of Life.
* The NY Post refers to them as "s—t people," so I guess it could theoretically be "snot people" or "smut people" or "scat people." Christ, NY Post, are you shitting me with this? No one respects you enough for you to act like you have family newspaper standards to uphold anyway; just say the word you mean.
Update: Ramirez has responded to the lawsuit's claims. Via Eater NY:
I am deeply saddened to write that it has been reported that former employees have filed a lawsuit with allegations of racism and wage withholding against me. I am writing to say that these allegations are false.

With great humility I write here today to ensure all who are reading this that I am not a racist and I have never been. I am fortunate to work with a talented staff who come from all over the world and I value each and every one of these individuals and the knowledge and experiences that they bring. I myself immigrated to the United States as a child and it is a culmination of many cultural experiences that have guided me professionally and personally. My culinary skills and inspirations are derived from working for and learning from professors during my apprenticeships in Japan, Europe, and across the United States. The Chef's Table began as a vision that stemmed from these dynamic experiences that have made an impact in my life.

Our guests are the reason I put on an apron each day to cook. Whether they are local NewYorkers or traveling from near or far, they bring experiences to the restaurant that would be difficult to replicate anywhere else in the world. We treat the restaurant as our home and everyone that comes here is immensely valued. I am indebted to our guests. I would like to request that those reading this understand that these are allegations and I deny them. This has been tremendously hurtful and damaging to myself and everyone who has contributed to building The Chef's Table at Brooklyn Fare over the last five years. I acknowledge that these allegations can be hurtful and painful to those reading them as well and I want you to know that I sympathize with you as I personally understand how painful this is.

Throughout my career as a chef, my main goal has been spending time in the kitchen tocreate meals for my guests. Thank you for reading this note with compassion. It will be mycontinued dream to cook for you one day.

With Gratitude, César Ramirez
Image via The Chef's Table at Brooklyn Fare/Facebook.