Much like Michael Ian Black before him (earlier this day), Saturday Night Live's "Weekend Update" co-anchor Michael Che has an opinion about Louis C.K.'s potential comeback that I could really do without!

Ana Gasteyer Satirizes the Girl Boss in 'American Auto'
In a series of Instagram Story posts published Tuesday, Che defended C.K.'s seemingly impromptu decision to perform at his old stomping grounds The Comedy Cellar in NYC on Sunday night, nine months after five women accused him of sexual misconduct in a New York Times exposé. The day after the investigative story ran, C.K. admitted the stories were true, apologized in a less than satisfactory manner, at the end of which he did at least promise to "now step back and take a long time to listen."
Che looked at the issue from a few angles. In one post he responded in a breezily dismissive, humorless manner to a piece Megan Garber published on The Atlantic on Tuesday called "Louis C.K. and the Men Who Keep Getting What They Want." Che wrote, apparently in response to that article, "The one thing I do love/miss about Twitter is seeing Megan freakout about the world still turning. 'Omg! Can you believe that guy went on with his life?!' Yes, Megan. I can." Well, it's a good thing that Che is here to make clear-minded assertions—like, chill out on the justice, men have lives to live, the Earth rotates, it's science.
G/O Media may get a commission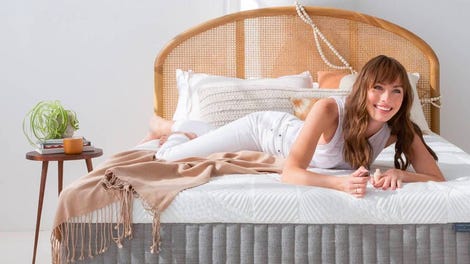 Sleep Sale
Sleep Sale - Brentwood Home
Che, who is slated to host the Emmy Awards alongside Colin Jost, also posted some thoughts about celebrity:
"What's interesting to me about these articles against Louis CK performing again, is how important fame is to people. A lot of what I read says that CK shouldn't get to be a 'famous' comedian anymore. Because to them, he's still winning. Isn't that strange? Meaning he can be shamed, humiliated, lose millions of dollars, lose all of his projects, lose the respect of a lot of his fans and peers, and whatever else that comes with what he did, but since he can still do a comedy set for free at a 200 seat club a year later, it means he got off easy. THAT's how coveted fame is."
The Daily Beast reported that in response to a comment someone posted asking what he thought C.K. "deserves," Che replied, "Man, I don't really know. I haven't talked to him in a while. I don't know any of his accusers. I don't know what he's done to right that situation, and it's none of my business. But I do believe any free person has a right to speak and make a living." I love how men defending men accused of (or in this special case who has admitted to) sexual misconduct never know anything, much less the full story, except for one thing, and this they know vehemently: that human dignity rests upon that man maintaining his social position.
Three years ago, Che deleted his Twitter account, prompting many to speculate whether he had done so for expressing sexist opinions about street harassment. In a social media post that contains some echoes of his recent Instagram story (the weird obsession with inserting fame into the heart of the debate), Che reportedly compared being recognized on the street to sexual harassment.