And now, it begins: In light of President Donald Trump's recent executive order that will cut federal funding from sanctuary cities, Miami-Dade County Mayor Carlos Giminez ordered county jails to comply with all federal detention requests.

As reported by the Miami-Herald, by refusing to "indefinitely detain inmates who are in the country illegally and wanted by ICE," Miami has been a de facto sanctuary city since 2013. However, their status as such is because the government doesn't fully reimburse them for the expense of doing so. Unlike other cities that have accepted the label and promoted themselves as such, Miami has been resistant to the label.
Giminez is a Republican who voted for Hillary Clinton; in an interview with the Herald, he made it clear that the decision to comply with the new administration was purely financial:
Last year, the county declined to hold some 100 inmates wanted by the feds. Keeping them in local jails would have cost about $52,000 — a relative drop in the bucket for a county with a total annual budget of $7 billion.

In contrast, the county's 2017 budget shows it's counting on receiving some $355 million in federal funds — money that subsidizes elderly services, beds for the homeless, police officers and other government expenses. It's unclear how much of that comes from the sort of grants Trump has threatened to deny sanctuary municipalities.
His compliance with the executive order, which has been denounced by other mayors across the country, appears to be a safeguard against the possibility of losing funding for many other valuable services. "It doesn't mean that we're going to be arresting more people," he told the Herald. "It doesn't mean that we're going to be enforcing any immigration laws." Giminez also made it clear that agreeing to go along with Donald Trump's harebrained and dangerous scheme to rid the country of immigrants through unvetted executive orders doesn't mean that law enforcement will spend their time "asking people for their papers."
"We don't want police asking people immigration status," he said. "The federal government has to do its job."
G/O Media may get a commission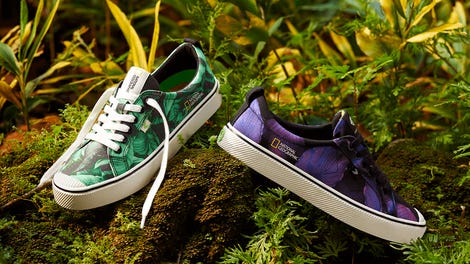 New New New
Cariuma + National Geographic
Since the President of the United States seems to prefer to get his information not from intelligence briefings but from Fox News chyrons, he responded to this news via his favorite medium shortly after it broke.
Giminez's decision has been met with strong words from Howard Simon, the executive director of the Florida chapter of the ACLU, saying that complying with Trump's order "flies in the face of Miami's long history as a city of immigrants."
"We will resist every attempt by our government to punish immigrants, regardless of their status," he said. "At the very least, a warrant from a court, not merely a request from a federal official, is required to detain somebody in jail."