Meryl Streep stopped by The Ellen Show yesterday to talk about all the amazing things she's been doing lately (everything Meryl Streep does is amazing, by the way. She probably blinks better than the rest of us). Unfortunately, Ellen missed the opportunity to have Streep teach the audience how to expertly fling coats and dismiss others for moving at a glacial pace –"that's all"– but she asked her to do the next best thing: read mundane descriptions as if Streep were trying to add another award to the Wikipedia page devoted to her awards (which is an actual thing).
While Streep definitely wins the Golden Globe for best actress in a sexy cookie recipe, she takes home the Oscar (fanfare noise goes here) for her portrayal of a woman giving birth while reading an otherwise non-compelling traffic report. I wonder if traffic reports get ratings, because this could be an excellent idea for sweeps week. Call your local station!
---
Taylor Swift and Naomi Watts went shopping (not together but possibly at the same time? Perhaps they had some kind of psychic connection?) and people took photos of them. Swift hit a Whole Foods and purchased fruits and vegetables (sensible, as one needs at least 5-7 servings a day); Watts went to Target and bought woven baskets because she's a badass and ain't worried about no hackers. And because you can't just quit Target. Sorry, it's true. [E!]
---
G/O Media may get a commission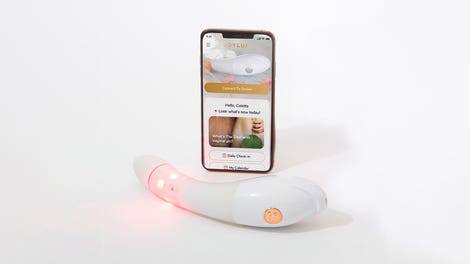 $50 Off
Joylux vFit Gold Device
Nancy Grace believes that smoking Marijuana leads to violence and that "people on pot shoot each other, stab each other, and strangle each other." She forgot to add "over Cool Ranch Doritos, because those are the best kind." [Pajiba]
---
If the trailer is any indication, the Maleficent movie is full of light and sound and animation. I will probably need an Ativan to get through it without a panic attack. [YouTube]
Zain Asher, CNN reporter and sister of Chiwetel Ejiofor, broke down on national television when discussing her brother's Academy Award nomination. It's nice to see siblings be happy for each other. The last time I cried over something my brother did, I was 15 years old and he had just thrown my official SONY Discman (with skip protection) out the window. [Us]
Tom Hardy is starring in a thriller about a man who drives a car for 85 minutes. I was about to be all *~*~ArT~*~* but it actually looks pretty awesome. [Vanity Fair]
Kim Zolciak is trying to be a house-flipper. There's already a show about that, Kim. You are officially Tardy For The Party. (Pun proudly intended.) [Life&Style]
Mary Steenburgen will appear on several episodes of Justified. Why doesn't Mary Steenburgen appear in everything? Have you seen her in Joan of Arcadia? [EW]
Hilary Duff is coming back to TV! Hilary Duff is coming back to TV! [HuffPo]
Farrah Abraham and Taylor Armstrong do not get along. This brings the list of people Abraham does not get along with to "everyone." Good game, Farrah! [E!]
Here is a list of secret talents celebrities have: Angelina Jolie collects daggers and throws knives! Harrison Ford flies planes! Emma Roberts possesses the powers of telekinesis and transmutation! [BuzzFeed]
Actress Suchitra Sen has passed away. She was 82. [THR]
Laura Linney welcomed her first child! [LA Times]
This kid. This kid.
Image via Getty