Marrying into the royal family sounds like being famous, but way, way worse: you are basically a deity, but you're actually a real person with a life that was yours before you were monstrously famous. This is a reality Meghan Markle is grappling with now, as her father Thomas, a relic of her life as a normie, can't seem to keep his mouth shut.

The Markle father was on Good Morning, Britain accusing his daughter, Meghan, of "ghosting" him—a result of her controlling nature, of course—and begged his daughter to answer his texts, I guess?
"She has always been a very controlling person and that is part of her nature, but she has never been rude. She has always been in charge. I've been ghosted. I'm not sure why it's happening. I love my daughter very much. I wish she would reach out, send me a text, anything. There has to be a place for me. I'm her father."
He also asked the Queen for help, which I'm sure will work out well for both of them. As a casual bystander with merely a vested interest in gossip and absolutely no knowledge of the nuance of their relationship beyond what I've seen in the tabloids, I feel stressed out on behalf of Mr. Markle and his daughter both. Holiday times are hard, Sandringham is probably chilly this time of year, and all I truly want for Christmas is for everyone to just do whatever it is they want to do, alone, for themselves, without interference!
[E! News]
---
Might as well make this mess a twofer—here's Samantha Markle who couldn't keep her mouth shut, either!
She saw the Christmas card that Meghan and Harry sent out, probably actually thought it was fine, but felt compelled to make a tweet or three about it because, you know, why not.

The card in question features a picture of Harry and Meghan watching the fireworks at their wedding—that's nice! Whatever! It's their first Christmas card as a couple, who cares, nothing matters, etc. While I'm certain all of this is true, seems Sammy Markle disagrees.
G/O Media may get a commission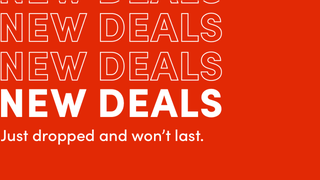 Up to 70% off
Wayfair - Cyber Week Deals
Invoking a lesser-known Christmas superstition that I'm certain she made up for drama, she said, "It's incredibly rude to turn your back in a Christmas photo that is meant to share warmth and good wishes with the world." I am not sure if this has any basis in reality, but, okay, girl!
[Page Six]
---
Pardon me, please just watch this. Thank you.
Not sure what is actually happening here between J-Woww and Roger, but it doesn't seem great! [TMZ]
All I want for Christmas is for Lindsay Lohan to show up in Time's Square for New Year's Eve!!! [Page Six]
Hey, those two people that were on that ABC show Revenge that was good for the first season but the bad for the rest got married! [People]