A few weeks ago, I nibbled a Xanax, chugged some water, and got on a 16-hour plane ride to Taiwan. Usually I am not concerned with what my face is doing on a long plane ride. But a year spent fully immersed in the annals of beauty blogs and this post written by a woman with a skincare regime that is both aspirational and terrifying convinced me otherwise.

Plane air is recycled, dry, and full of the farts of your fellow passengers—murder for skin. My skin, which is dry and dull and zzz in winter, would surely fare poorly. The idea of being the self-described "crazy!!!" person who straps on a sheet mask and drinks a free Chardonnay while watching Bridget Jones's Diary sounded appealing, but mostly I was concerned with ruining all the work I've done to get my face in order.
Sixteen hours is a long time; I had grand plans of moisturizing every two hours, spraying my face every five minutes, and rubbing hand cream into my chapped cuticles constantly, but what really happened is that I fell asleep while watching The Boss Baby on my iPad and woke up every time one of my sisters had to use the restroom. However, I did manage to take care of my face!
Before I left, I went to Sephora and bought this tiny little Belif Travel Kit, full of fun creams and jellies and serums that I patted into my face with glee. The Belif True Cream Aqua Bomb is a really lovely moisturizer that absorbed very quickly and disappeared into my flesh with the greatest of ease; their eye cream is the nicest I've used in some time, hydrating, silky, and it did not make my eyes turn red and runny like a rabbit's. I didn't really use the other items in this travel kit on the plane or while I was in Taiwan; I can't find the toner but this water essence is the real deal and I will probably buy the full size once I've run out of the little tester because I love it! For making sure my puckered little mouth didn't get gross, I liberally applied a thick schmear of this French-ass staple I read about so much on Into the Gloss that I made my sister bring me a tube home from Paris when she was there for work. It's great! I get it.
I applied all this crap on my face multiple times during the flight, but sealed in the initial jelly layer with this Sephora Pearl Sleeping Mask, which was suPPOSed to brighten my face, but I'm pretty sure it just locked all the other crap in so my skin didn't dry out. I sprayed myself copiously with this lil' mineral water mist every time I felt dry. My hands were dry-ish, so I smeared my new favorite hand cream, the intensely-moisturizing Kiehl's Richly Hydrating Hand Cream in the alluring Coriander scent, all over my raccoon paws. When we finally landed, my face felt nice but also slightly shiny—not dewy, but donut-esque—so I retreated to the cleanest public restroom I've ever seen in my LIFE at the Tapiei airport and washed up with the accompanying face wash. There I was! Ready to face ten days with my family!
G/O Media may get a commission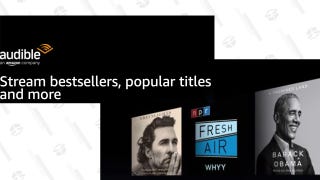 FREE
Audible Premium Plus 3-Month Free Trial
I did not break out ONCE on this trip; my skin waited until the final day, when a tiny but strong hormonal zit emerged on my chin. Luckily, I made it back home, picked at it with glee and then, by dint of a miracle, it disappeared. Bless!