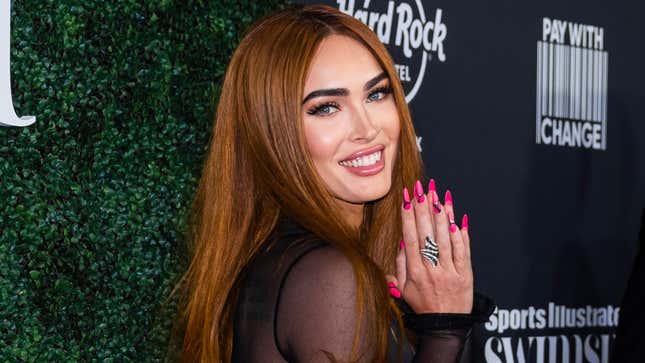 Happy Pride Month, especially to Megan Fox, who spent this weekend dueling with failed Republican congressional candidate Robby Starbuck after he claimed the actress "forced" her young sons to "to wear girls' clothes."

The Johnny Depp and Amber Heard Defamation Trial Has Begun
On Saturday, in an Instagram post featuring a screenshot of Starbuck's Thursday tweet claiming that her children's wardrobe choices amount to "pure child abuse," Fox called Starbuck a "clout chaser" and proceeded to excoriate him.
"never use children as leverage or social currency especially under malevolent and erroneous pretense," she continued. "exploiting my child's gender identity to gain attention in your political campaign has put you on the wrong side of the universe." Fox, who often alludes to witchcraft and magic in her life, added that she's "been burned at the stake by insecure narcissistic impotent little men" like Starbuck "many times," but now he's "fucked with the wrong witch."
A cursory scroll of Starbuck's Twitter page shows the man is fairly obsessed with children and queer people, and especially spreading disinformation about the supposed threat that LGBTQ pose to children by living freely. In reality, any rational person would probably conclude that a man as obsessed with policing young children's clothing and self-expression poses a much more significant threat to said young children.
Starbuck, who apparently has a lot of time on his hands since being disqualified from his Tennessee House race last summer, continued his harassment of Fox and her family on Sunday. He specifically doubled down on his bizarre claim that his and Fox's kids have played at the park together and that hers had an "emotional breakdown" over their mother forcing them to wear girls' clothes. He also dug up old interviews in which Fox has spoken about her son's disinterest in gender roles and posted screenshots of DMs he's supposedly receiving from angry "leftists."
Fox fired back with an Instagram story of a viral photo of supposed witches caught on surveillance camera eating a deer carcass last week, with the caption, "me outside rob starbucks house."
Brian Austin Green, her ex and the kids' dad, has also called Starbuck's claims "bogus."
"There are only a few people in their world that can actually verify wether [sic] or not a story like this is true and I can tell you with absolute certainty it is not," Green told TMZ this weekend. "This person trying to claim this is true is a perfect example of someone with selfish motives that does not care about negatively affecting a parent child relationship."
For whatever reason, Twitter CEO Elon Musk, father to a trans child who's legally changed her last name and cut Musk off, has also inserted himself into the discourse around Fox's kids. "looking to hire a VP of Witchcraft & Propaganda," the 51-year-old father of nine tweeted on Sunday. When users pitched Fox to him, with one claiming Fox is "bad" at propaganda, Musk replied, "Nobody's perfect."
Of course, none of this is really all that funny, especially in the context of Fox's interviews about her son facing bullying for his choice to wear dresses: "I do have a child that suffers. I have a lot of worries about that, because I just wish that humanity was not like this," Fox told Glamour UK last year. "Although my kid is so brave and my child is so brave and I know that they've chosen this journey for a reason. It's just hard as a mom."