On Sunday evening, after two evenings of official trials and seven months of intense qualifying observation, Team USA announced its five-woman Olympic squad.
And everyone cried! After finishing their final routines, all the potential competitors hugged each other weeping. According to ESPN, the normally steely 74-year-old program head Martha Karolyi cried while announcing the team. The women chosen didn't stop crying while onstage. I didn't talk while watching them accept their new jobs because I would have sobbed too and been ashamed—I think I probably haven't worked nearly as hard as they did so I wanted to let them have their moment.
The team is chosen through a mixture of scores and opinions—the winner of the Olympic trials (Simone Biles) automatically gets a spot, while the remaining four members (and three alternates) are chosen by a selection committee. This year, for instance, Gabby Douglas placed sixth overall in the trials but was still invited to compete in Rio de Janeiro—in the 2012 Olympics in London, she became the first black woman to win all-around gold.
Zip off your track suit and honor these five extraordinary women, who have muscles in places I didn't know existed.
Simone Biles
G/O Media may get a commission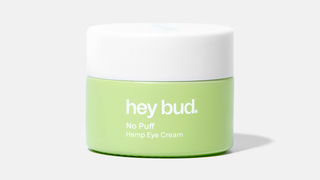 15% off
Hey Bud - No Puff Hemp Eye Cream
Many think the 19-year-old from Spring, Texas is the greatest female gymnast of all time. She's been world champion three years in a row (and is, according to the Huffington Post, the first American woman to do that in 42 years), and has won world championship medals 14 medals total. She will do well.
Gabby Douglas
You already know 20-year-old Gabby Douglas from when she was on the 2012 Olympics' Fierce Five gymnastics team, during which she became the first black gymnast to win an individual Olympic gold medal and the first American athlete to win team and all-around medals.
Since 2012, she took a few years off from competing and has since starred in her own reality show, Douglas Family Gold.
"I do want to be sharper," she said, looking back at her 2012 performance. "When I look at my performances, I'm like, 'Ooh, you're lagging behind, Gabs.' The one thing I tell myself is not to get lazy. Nothing is handed to you; you always have to fight for yourself. Personally, I don't feel as sharp as London, but that's going to change. Right now, I'm so determined to get back in the gym and be better than before."
Laurie Hernandez
Laurie Hernandez is only 16, the youngest on the team by several years, and was reportedly a favorite to make the Olympic team after winning the junior all-around national title in 2015. According to her Team USA fact sheet, Rio will be her first major senior international meet.
"That's incredible. Wow. That's all I can really say," she said on being teammates with Douglas and Aly Raisman. "I was 12 and that's a really young age. Four years really matures you. I didn't realize how much mentally and physically older I got in the past four years, so looking back at this little girl watching the Olympics on her phone, I would never think I'd be here right now."
Madison Kocian
The Dallas-raised Madison Kocian, 19, is best-known for winning the world title in uneven bars in 2015, by tying with three other gymnasts (they all won gold), and she'll mostly be relied upon in Rio for her expertise on those bars.
During the Olympic trials, Kocian finished eighth in all-around, ninth on beam and floor, 12th on vault, and, as expected, first in uneven bars.
Aly Raisman
Aly Raisman, 22, is the most senior member of the team, and could likely be team captain. She competed in the 2012 London games with Douglas and took home three medals: team gold, gold on floor exercise, and bronze on balance beam.
Since 2012, she took two years off, during which time she toured with the other members of the Fierce Five and competed on Dancing with the Stars (she finished fourth, which seems way too low). She apparently looks to be in even better shape this time around, which will be her last Olympics.
MyKayla Skinner, Ragan Smith, and Ashton Locklear will also join the team as replacement athletes.
---
Images via Getty.