Here's a story that you'll likely be seeing in theaters (or on Lifetime) by next Valentine's Day: A woman who donated her kidney to a stranger she heard about on the radio is now marrying the man she saved and preparing to give birth to their child in June.
According to Health.com, Ashley McIntyre first heard about the man she was going to marry from her mother. But her mother didn't know Danny Robinson, she'd only heard about him on the radio where she'd learned he was looking for a kidney. And when McIntyre learned more about Robinson, she knew she had to help the man who was living with a kidney disease that required thrice-weekly dialysis. And that's not all: Aside from the trouble with his Kidney, Robinson had suffered even more tragedy in his young life. His family's house burned down on Christmas in 2011 and his father had died of brain cancer.
The 26-year-olds met when McIntyre volunteered to donate a kidney and it was discovered that she was a match. And while she didn't plan on turning her life-saving act into a meet-cute, the couple apparently hit it off when their families met. Health.com reports that Mcintyre and Robinson "bonded instantly" and that their love just grew deeper and deeper as the months wore on.
Some might criticize the relationship as being a perpetually inequitable one (how will Robinson ever repay a stranger who gave him a vital organ?), but according to various sources, the two are very happy and plan to get married as soon as they can. And who are we to judge true love, right?
Robinson is thriving after his procedure. Doctors say that patients who have been given kidneys from a living donor have a higher chance at better quality of life than those who receive a kidney from a deceased donor. "I never in a million years imagined this would happen…It's crazy how it all worked out," McIntyre said.
G/O Media may get a commission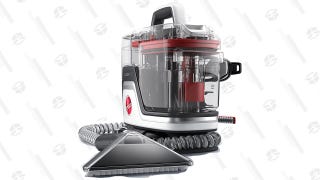 Save $10
Hoover CleanSlate Plus Carpet & Upholstery Cleaner
Image via Facebook