In 2012, Becky Cloonan became the first woman to draw Batman [update: first woman to draw Batman on the main title] since the superhero debuted in 1939. "It feels good to be the first," she says, "but I didn't think about it when I was drawing. I was just excited: I'm drawing Batman!"
Scott Snyder, one of the writers who worked with Cloonan on Batman, describes her as an artist with emotional depth:
I first became aware of Becky nearly ten years ago, with the great series, DEMO. What I've always loved about her work is its emotional expressiveness. She has an incredible ability to convey emotion in story. Not just through her characters - their facial expressions and nuanced body language - but also through her storytelling, through the directorial choices she makes, the angles chosen, the lines (sometimes crisp and dark, sometimes lush with brushwork). The bottom line is she's an incredibly empathetic storyteller, someone who brings a story to life on the page in such emotionally enveloping ways.
It'd be interesting to see if Snyder would describe a male artist in those terms — "incredibly empathetic", "emotional expressiveness", and "incredible ability to convey emotion" — they all feel very gendered. When I look at Cloonan's Batman, I just see... well, Batman. Maybe she brings a ladies touch to the character, but since nobody knows what the fuck that is, who knows.
No matter what, it's great to see more women working in mainstream comics. Here's hoping Cloonan is the first of many to draw Batman, and all the rest of the DC and Marvel universes.
G/O Media may get a commission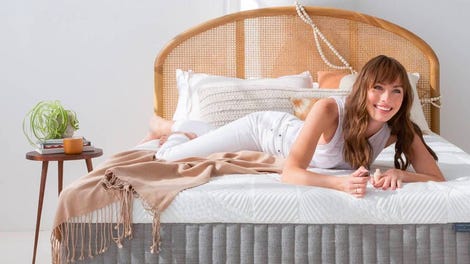 Sleep Sale
Sleep Sale - Brentwood Home
[Update: Snyder has called male artists work "emotional", so let that be stated! This isn't about Snyder — who, by all accounts, seems like a great guy with a love for comic artists regardless of gender! — but about the fact that it's kinda crazy that it's taken 73 years for a female artist to draw the comic. It's just reflective of a business that employs almost entirely male artists. It's exciting that Cloonan is so successful, and hopefully seeing her in the spotlight will encourage more girls and women to see this as a possibility for themselves!]
[O]