The British miniseries The Night Manager, likely to be nominated for everything, worked like one long movie—beautifully shot, subtly acted (especially for a spy/action thriller) and well-directed. Though the cast and production team was mostly men, one name stood out: director Susanne Bier, who reports indicate might be tapped, and fittingly, to helm the next Bond Movie, now that Sam Mendes has officially stepped down.

Rumors are still swirling about who will be cast as Bond, as Daniel Craig is all but guaranteed to be done with the role (with Bier potentially directing, Night Manager star Tom Hiddleston has come up quite a bit), but Radio Times reports the following:
Sources close to Bond producers Eon tell RadioTimes.com that Bier is among a "handful" of names making up producer Barbara Broccoli's shortlist to inherit the directing gig from Mendes.
"Barbara Broccoli chooses who is going to be the next Bond, end of story. And without that there would have been no Daniel Craig because public support for Daniel was zero," Mendes said recently of the Bond producer who holds the keys to the castle.
"It was her saying: 'That man over there, he's going to change the whole tenor, I'm going to cast him.' That turned the whole thing on its head," he continued. If Broccoli and her team pick Bier, she'll become the first woman to direct a Bond movie, a list with 24 films on it.
G/O Media may get a commission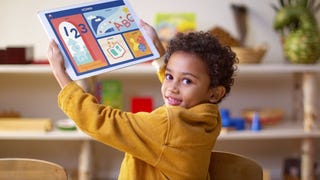 30-Day Free Trial
Homer Learn & Grow Program
Bier was born in Copenhagen, and has a number of credits for European films under her belt; one them, In a Better World, won an Oscar for Best Foreign Language Film, while another (After the Wedding) was nominated for the same. For The Night Manager, she played an integral part in casting the incomparable Olivia Colman as intelligence officer Angela Burr, a character written as a man in the original book by John le Carré.
"I feel very strongly about gender politics. I feel very strongly about fighting for female equality. Whenever I'm asked, was my ambition not to let my gender down, I get worried because my ambition is not to let anyone down. And if I start living in that [I'm representing] my sex, I immediately put myself in the category of a fringe or niche thing, and I don't want that. The mistake is to think that women can only deal with female topics," she said in a recent interview with Vulture. "A female director is going to be just as great doing a huge action film."
And in a piece for The Guardian, she noted how television has helped woman directors gain acclaim, remarking on how her work has often been put in a box:
Each time I've made a film, I'm told by a smart studio exec, as if having stumbled across Pythagoras's theorem, that my audience is women between the ages of 20 and 50. For 20 years this "insight" has never changed. All my films have been different: I've made romcoms; I've been political; I've made films about violence and trauma. But because I am a female director they are all treated the same. Anything made by someone who isn't a white male is labelled arthouse and niche.
"Meaningful change can only happen when studios create a more imaginative way of considering their audience," Bier continued, explaining her thoughts about diversifying those in front of the lens as well as behind it "To assume that women aged 20–50 are a homogeneous group that will respond to a film in more or less the same way is not only stupid, it's bad for business."
Given that the EEOC is currently investigating Hollywood for discriminatory practices over not hiring woman directors following several reports on the dearth of women in those roles, Bier's thoughts—but more importantly her work—will hopefully be welcomed fully into the Bond universe, where the best stuff is often shaped by women anyway.
---
Image via Getty.