What follows is baseless gossip and may also sear your eyeballs, but we're going to share it nonetheless. Over on Reddit, women are swapping stories about famous musicians they've supposedly slept with. Rather than just giving you the highlights, let's make this a game: match the story with the famous person it's supposedly about! Fun fact: I regret this already.
Here's the essay prompt that sparked the discussion on Ask Reddit : "Girls who have slept with rock stars: How was it? What was you [sic] [perception of the person afterwards? What did your friends and family think (if you told them)? etc." Once again, this thread can't be verified in any way, and some of these stories are frankly just too good to be true. Please approach this the same way you might a Weekly World News story about the Bat Boy emerging from a cave in West Virginia and fleeing in a stolen Mini-Cooper.
We'll give you the story, give you a few moments to think about it, then give you the answer in photo form. I apologize in advance for every word of this and may God have mercy on us all.
Your Body is a Kleenex, Basically
A girl I knew in college "slept" with [Musician] after the Concert for Virginia Tech. I say "slept" because he had her lie on the bed, then he jacked off on her. Then he just left.
G/O Media may get a commission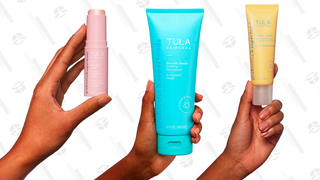 Interesting! In a bad way! That's a bad way to do sex!
....
....
The answer, allegedly:
That's guitarist and WBI (Wonderland Body Inspector) John Mayer. I probably gave that one away with the title. Moving on!

First the Intercourse, Then the Collectibles:
I cannot think of a seamless segue between "I am inside you" and "Here's an autographed CD" or whatever, but supposedly our hero found a way.
I used to be friends with someone who slept with [Musician.] She said she had a good time and he gave her some signed memorabilia items. It sounds like he was nice to her.
....
....
The answer, allegedly:
I'm actually curious about this one, because Jack White is famously a lil cranky. But maybe that's just when he's dealing with the asshole media, and he knows how to be polite where it counts. (Call me, Jack White.)

Under the Table and Talking about Pooping On You
No spicy stories from myself, but I have a trustworthy friend who hooked up with [Musician] in the 90s. He started talking about scat play and she noped on out of there.
You knew there'd be at least one of these.
....
....
The answer, allegedly:
That's Dave Matthews, who presumably does not wear a mossy sweater during sex. (I'm not good at coming up with non-giving-it-away titles, am I?)

Polar Opposites (Between This Guy and the Famous Musician His Lady Ran off With)
Kind of related, but I feel like sharing; [Musician] (singer of [Band]) fucked my date while we were hanging out at his hotel. That was not a fun night.

edit This was in 2000, so maybe he's matured and isn't such a drunk, unintelligible douchebag these days, but I haven't felt the urge to look into it.

edit 2 Since people have asked, here's the story. In 1999 I met this girl who worked at a video store, and we hit it off. We were friends, we started to get a little more intimate. We weren't dating, but we were hanging out almost daily and our discussions and actions were heading in that direction. She was a huge fan of this band [Band], that I hadn't heard of, and asked if I wanted to go to the show with her. I agreed, of course, and she made me a mixtape to introduce me to the band. Night of the concert, and it's in this shitty dive bar(they weren't very well known yet). I don't drink, she does, and she gets pretty drunk.

After the show I wait with her for an autograph. The band comes out, there's no one else waiting, and we talk for awhile. The guys invite us back to their motel, and give us the address. I drive us over. We spend a few hours in the ir suite, drinking, smoking(I do neither, but whatever), talking about music and shitty pothead philosophy. One by one the band goes to bed, until it's just me, my date, and [Musician]. They leave the room to have a cigarette outside, and after 15 minutes I go looking for them, and see their basically fucking in the stairwell. I go back and sit on the couch, try and focus on the TV, and not the sinking pit in my stomache(it sounds juvenile, but I was just 21, and really into this girl, and it hurt). At one point the drummer comes out half asleep, looks around at the empty room, looks at me, gives me this weird nod, and goes back to bed.

So, the embarrassing thing: I didn't leave. I didn't get out of the room. I stuck around, and then drove her home in the morning. I didn't want to leave her stranded miles away from home in a motel. And, as a postscript, we've remained very good friends over the past 15+ years. We never got together, but it isn't a completely unhappy ending. Also, I know I mention that she's drunk and stoned, and [Musician] had a rape accusation, but it was completely consensual. She wanted to do it, she has no regrets about it.
[Empathetic embarassment cringe]
....
....
The answer, allegedly:
That's Isaac Brock of Modest Mouse, looking plaid as plaid can be.
(As the Reddit post mentions, Brock was accused of rape by a 19-year-old woman in 1999. She didn't ultimately press charges, and the Seattle prosecutor also didn't pursue the case. In 2004, Brock called the charges "complete and utter bullshit," adding, "It fucked up my life once, and I'd prefer to just let it go."
Yeah bo— oh my God:
Ok not even a throwaway… I fucked [Musician] in a seedy toilet room out the back of the ANU Refectory Bar in 1998. I'm not proud. I try not to tell people. But on the bright side, I didn't get gonorrhea.
Any experience where that is your bright side is not the best experience, Reddit lady!
....
....
The answer, allegedly:
You know what? Let's be real here. Flavor Flav has seven kids. Seven. He probably knows what he's doing.
Are we an item? [Famous person], quit playin'
I know a girl who slept with [Musician] about a year ago. Super hot Swedish girl (I guess he's still big/not super hated over there...). Had to sign an NDA. Said he was super lazy in bed. Average size. Pretty much what you'd expect I guess.

Edit: For everyone saying she "broke the NDA" by telling her friends, I get it alright? I still think the main idea behind having anyone sign an NDA before boning a celebrity is to prevent them from profiting and/or publicizing the story but then again, I wasn't there to read what she signed.

Edit: Alright guys. Someone posted the nondisclosure agreement and she in fact did break the terms. I'm surprised so many people seem to want to send her to jail...
Super lazy, huh? This can only be...
....
....
The answer, allegedly:
Totally unrelated, not speculating or anything, but having a gaggle of people dying to sleep with you at any given time probably doesn't lend itself to developing sturdy and generous sexual habits, you know?
Can't Take No More, Ain't No Lie, Etc.
My sister briefly dated (and thus slept with) [Musician from band] at what would have been the height of [Band] fan girl mania.

[Musician] of course eventually ended up coming out as gay, so now I get to jab her that she fucked him so poorly he switched teams.
That's not nice and it's not how it works but also that's exactly the kind of thing you say to your sibling.
....
....
The answer, allegedly:
Lance Bass has reportedly said he stayed in the closet for the sake of NSYNC, which just makes me terribly sad. Luckily he's happily married to Michael Turchin now, and made history as the first same-sex couple to get married on network TV. Happy ending for everybody but the lady who supposedly didn't have such a great night with Mr. Bass!
Now is, I suppose, the time that I ask for your similar tales of woe and/or triumph. If you don't have any musician-banging to share, you may use this space to tell me the least conventionally attractive person you would still sleep with because of their musical and/or artistic talent. We'll never speak of this again.
Top image via Columbia Pictures/screencap, all other photos via Getty