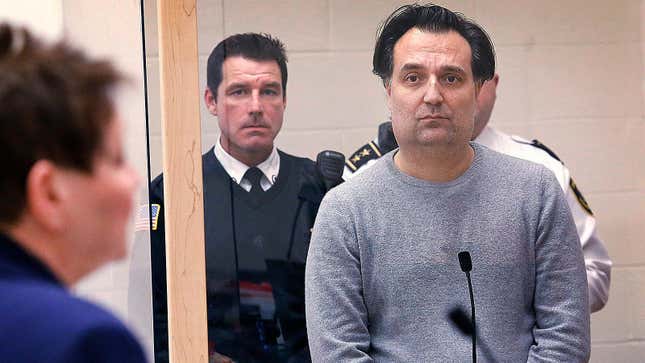 Brian Walshe, the husband of a Massachusetts woman who went missing early on Jan. 1, searched from his son's iPad "10 ways to dispose of a dead body if you really need to," "how long for someone to be missing to inherit," "how long before a body starts to smell," and "how to stop a body from decomposing," among other searches, local prosecutors revealed on Wednesday.

The evidence was presented in court shortly after prosecutors issued a murder warrant for Walshe in the death of his wife, Ana. Walshe allegedly made these searches within minutes of the time he told Cohasset police that he last saw Ana alive. Additional searches he made on Jan. 1 include, "can you throw away body parts," "how long does DNA last," "can identification be made on partial remains," "dismemberment and the best ways to dispose of a body," "how to clean blood from wooden floor," and "what happens when you put body parts in ammonia?"
The following day, on Jan. 2, Walshe's searches included "hacksaw best tool to dismember," "can you be charged with murder without a body," and "can you identify a body with broken teeth," prosecutors said. They claim that the day after Ana's disappearance, Walshe purchased nearly $500 in goods from Home Depot, including cleaning supplies, mops, and tape. On Monday, authorities said that police found blood and a bloody knife in the basement of the Walshes' home.
Walshe was arrested earlier this month, when he was charged with misleading the investigation into his wife's disappearance. He's now charged with moving Ana's body or remains and is accused of assaulting and beating Ana with intent to murder her, according to the criminal complaint. He pleaded not guilty in Quincy District Court on Wednesday.
In a 2014 police report filed with Metropolitan Police in Washington, D.C., Ana said that Walshe had threatened to kill her over the phone. An agency spokesperson confirmed the police report to NBC News this week, and told NBC that no charges were filed against Walshe at the time because Ana ultimately refused to cooperate with law enforcement. The case was closed, and the following year, Walshe and Anna were married. They had three young sons, who are now between the ages of 2 and 6.
Ana was last seen in her home early on Jan. 1 before taking a ride-share from her home to Boston's Logan International Airport for an apparent work emergency. Police haven't been able to confirm which car service she took, but did confirm that she had booked plane tickets from Boston to D.C. for Jan. 3.
Walshe's defense attorney, Tracy Miner, claimed in a statement in court on Wednesday that prosecutors don't have a strong case against Walshe. "In my experience, where, as here, the prosecution leaks so-called evidence to the press before they provide it to me, their case isn't that strong," Miner said. She continued: "It is easy to charge a crime and even easier to say a person committed that crime. It is a much more difficult thing to prove it, which we will see if the prosecution can do."
Reuters reported that Walshe was also involved in a wire fraud case in 2021, though he faced no prison time, and before that, he was written out of his late father's will, because friends and family accused him of stealing hundreds of thousands of dollars of his father's money.
Ana's disappearance and Walshe's suspected involvement in her death come amid a recent, disturbing rash of domestic violence and murder-suicide cases involving men killing their female partners and their kids for trying to leave them. The killings—in Utah, North Carolina, and Michigan—happened over the course of a week earlier this month.