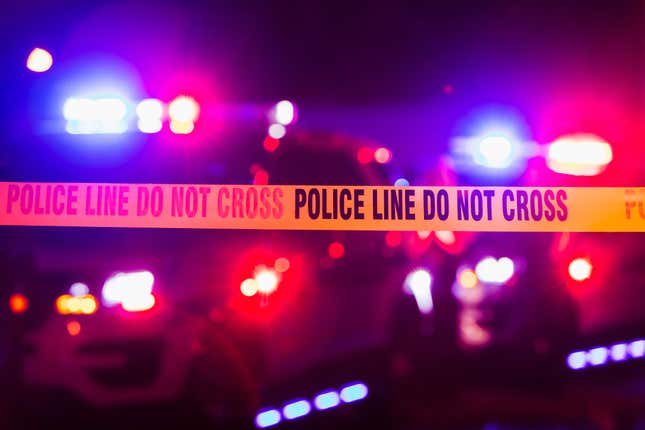 In the last week, three different fathers have killed their partners and kids, in two of the cases, shortly after their partners tried to leave them. The killings—in Utah, North Carolina, and Michigan—have been reported by local outlets separately in recent days, but several Twitter users pointed out that all took place in roughly the same time period under disturbingly similar circumstances.

Last week, on Jan. 4, a Utah man, Michael Haight, shot and killed his five kids, wife, mother-in-law, and himself in his home shortly after his wife filed for divorce. According to city officials, the Haights were well-known in their small town as members of the church. Police went to the Haights' home day after the shooting for a welfare check after others reported that Tausha Haight had missed an appointment earlier in the week. It was during this welfare check that police found Haight and his seven victims, including his 4-year-old son, shot dead in their home.
On Saturday morning, a North Carolina man killed his wife, three children, and himself within days of being involuntarily committed for mental health issues. High Point, North Carolina, police said the man, Robert J. Crayton Jr., shot and killed his wife, Athalia A. Crayton; 18-year-old daughter, Kasin Crayton; and two other children who were 16 and 10. Police came after two other adults who were in the house fled when the shooting began and ran to their neighbors' homes for help. Authorities say Crayton's gun seems to have been obtained legally.
That same day, a Michigan woman and her two young daughters were killed in their home. The woman's long-term boyfriend, Roger Kyle Hagger, was found dead as well, and authorities have said it was a murder-suicide. The county sheriff told local news outlets that the woman, Cindy Clouse, had been planning to end the relationship and was in the midst of packing to leave with her two kids, 13 and 10, before the shootings. She had reportedly told a co-worker about her plans. "That may have been what sparked this tragic event," the sheriff said.
Clouse's sister told the Detroit News the killings had come as a shock to her family, though they were aware of Hagger's "controlling" tendencies. "We never expected him to be capable of hurting [Clouse] or the girls," she said. "There was a side to him we didn't know. If we did know, we would have helped her leave."
The killings are horrifying on their own, and together present an alarming trend that's impossible to ignore given their closeness in timing. In at least two of the cases, the women who were killed were in the midst of trying to leave their partners. Experts have long emphasized that the most dangerous period in an abusive relationship is when the victim tries to leave—a period in which they're often isolated from friends and families by their abusers, and facing threats, physical harm, or lack of access to economic resources.
In all three of the killings, the perpetrator used a gun. Abusers' virtually unfettered access to firearms presents an existential threat to domestic violence victims. Thousands of women are killed every year by their male partners. Between 2003 and 2014, over 10,000 adult women were killed in the U.S., and 50% were killed by an intimate partner. In recent years, most mass shootings have been perpetrated by male killers with a history of domestic violence or violence against women.
As the start of a new year may mark a period in which more people try to leave an abusive relationship, organizations including the National Domestic Violence Hotline offer tools to help victims create a safety plan to exit abusive relationships, as well as a hotline to seek support.