For her role as a World War II-era matriarch in Dee Rees's Netflix film Mudbound, Mary J. Blige had to revert to a version of herself that initially made her uncomfortable. No makeup, no lashes, no wig. In recent interviews, Blige has explained how difficult it was to deglamorize herself on screen. I didn't realize how vain I was until I started working on Mudbound," she told W.

Film transformations have come to serve as visual proof of an actor's commitment to a role, that requisite step toward a potential Oscar. Just how homely can I look for the sake of my art? Do I have enough courage to trade one form of vanity (physical) for another (praise and accolades)? Recent examples: Margot Robbie stripped down her appearance to play Tonya Harding for I, Tonya; Christian Bale has gained weight and bleached his brows (and presumably sold his soul) for his role as Dick Cheney.
Still, it's rare that black actresses get to physically transform for an Oscar-worthy movie that doesn't involve playing a slave. And television has only recently caught up to the realistic vision of black women in twists, Afros, or, even more refreshingly, with hair wrapped under a headscarf (see: shows like Insecure, Atlanta and Being Mary Jane). As Tracee Ellis Ross noted three years ago, seeing Viola Davis without a wig on How to Get Away with Murder "illustrates that there is a mask that women are thought to have to wear. For black women, it can be a more complex mask." An image that in other words should be normal is still viewed as a shocking cultural shift.
As a pop star fond of layering and losing herself in performance makeup, Blige's act of coming undone for Mudbound is deeper than your typical Hollywood method actor. You can tell that her presentation as Florence (a character who wears a lot of her weariness on her face) was a big deal for Blige, who's the most arresting part of a film that too often loses itself in its own elaborate vastness. For her, it meant allowing the world to see not just her facial lines but her hair in its natural state, to see how she looks at home when no one is watching.
G/O Media may get a commission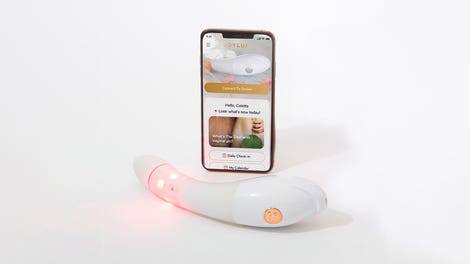 $50 Off
Joylux vFit Gold Device
In conversation with artist Carrie Mae Weems for W's Art Issue, Blige told the artist:
I didn't realize how vain I was until I started working on Mudbound. Once I saw how my character, Florence, lived [in a shack on a farm in Mississippi], I thought, Wow, I'm really a vain person. When I went to the movie set to do the first day of fittings, I was Mary J. Blige: I had just done a tour and a show, so I was all, you know, I had wigs and weaves and all sorts of things going on, and Dee Rees was like, "No! We want to see you. You can't have a perm, you're going to have minimal, minimal makeup." And I was like, "What about lashes?" And she said no, and I was like, "Really? Florence doesn't have lashes?" That part was a lot! A lot! But once I tore away and sunk into the character, Florence actually gave Mary—me, the so-vain person—a little more confidence so that Mary didn't feel like she needed to depend on all of that. I cut my hair really short. Florence really liberated me. Just committing to and trusting that character kind of helped to save my life.
The role has, inauspiciously, coincided with a time in Blige's life when she'd rather look fabulous in public. In real life, she's used the guise of glamour as motivation through a painful divorce, referring to this post-divorce evolution as her "Glow Up." Again, the timing was tough yet fortuitous. She told Variety in a September cover story:
On "Mudbound," Rees had a rule that no wigs could be worn because she thinks they look inauthentic. That meant that Blige had to embark on a physical metamorphosis. "I had to surrender and commit completely to Florence, like the little ugly boots she was wearing every day and those dresses," says Blige, who drew inspiration from her grandmother and her aunt, who lived in the South. She abandoned all the accessories that prop up her musical diva persona. "We couldn't wear makeup," Blige says. "We couldn't have nails. We couldn't do eyelashes. I was stripped down to the bare necessities of Mary. And that really helped me because people were saying things like, 'Gosh — you're so beautiful.' It helped my self-esteem."
Blige similarly told The Guardian the role made her recognize her own vanity. "You can't be Mary J Blige. You've got to be Florence, in the heat, in the mosquitoes, in the mud, in the little shack with all the kids and the husband. Mary J Blige don't have a husband… any more," she said. "It was liberating. I used to wear a lot of weaves and wigs and cover up my edges and stuff. Florence got me out here wearing my edges out. I was running around with no perm, no press, just my own natural hair, barely any make-up. It was good for me."
She's spoken at length about the process of funneling the breakup energy into her role and, coincidentally, Mudbound is making the rounds as a potential Oscar contender, and so is Blige, who's already won a Hollywood Film Award for Breakout Performance Actress.