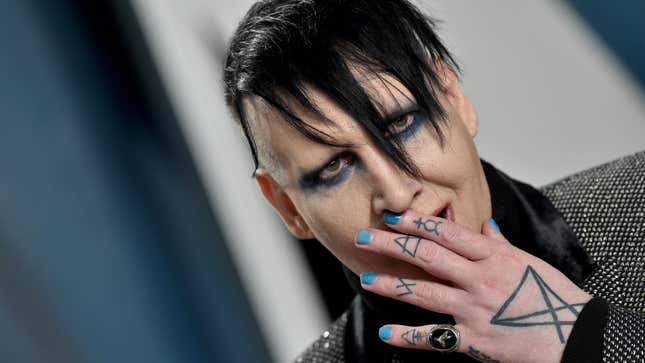 Marilyn Manson, accused rapist and abuser, has finally been slapped with some good ol' fashioned court-ordered accountability...only it's not for the multiple sexual and physical abuse claims against him (Manson has repeatedly denied all rape and abuse accusations).
On Monday, the supposed shock rocker was sentenced to 20 hours of community service and a fine of $1,400 for *checks record* spitting and blowing his nose on videographer, Susan Fountain, at a concert back in 2019.
Manson, per a police affidavit, approached Fountain in the stage pit of the Bank of New Hampshire Pavilion. Footage of the incident reportedly shows him hawking what police described as a "big lougee" at the woman, resulting in both of her hands getting covered with saliva. Later, Manson was seen near Fountain covering one nostril and blowing the other—once again—on her arms and hands. When a "significant amount of mucous" landed on Fountain, Manson proceeded to "point and laugh at Fountain as she gets down and walks away," the police sergeant who reviewed the footage said in the affidavit.
It took an arrest warrant and 18 months for Manson to turn himself into the authorities. He initially pleaded not guilty, but ultimately, changed his plea to no contest in 2021, meaning he accepted the charges but didn't admit guilt. In his defense, Manson's attorney, Kent Barker, claimed any excretion of bodily fluids was unintentional and, in fact, simply a part of his client's style on stage.

"The defendant's performance for the past twenty years are well known to include shocking and evocative antics similar to those that occurred here," Barker wrote in a filing. "The alleged victim consented to exposing herself to potential contact with sweat, saliva and phlegm in close quarters."

In the courtroom on Monday, Manson appeared but didn't give a statement. Meanwhile, Fountain chose not to appear but offered a statement that was read during the sentencing hearing.
"In all the years I've worked with people, I've never been humiliated or treated the way I was by this defendant," Fountain wrote. "For him to spit on me and blow his nose on me was the most disgusting thing a human being has ever done."
"I understand this was not a big criminal charge to begin with, but I was hoping that the defendant would receive a sentence that would make him think twice before doing something like this again," her statement continued. Per the judge's ruling, Manson is allowed to serve his community service in California where he resides, but must give proof of completion by February 4.
If Manson hadn't switched his plea and the case went to trial, he would have faced a jail sentence. Of course, this won't be Manson's last time in court. He remains in litigation in at least two cases—one filed by his ex-girlfriend, Evan Rachel Wood, and the other, a Jane Doe suit stemming from allegations he raped her at the age of 16. In May, a judge ruled in favor of Wood and dismissed much of his defamation case against her.
Luck (and basic human decency???), it seems, is very much snot on Manson's side.