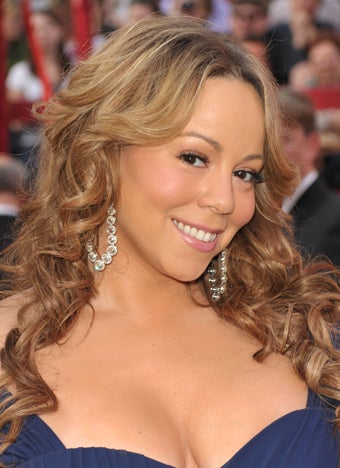 TSG has obtained a portion of Mariah Carey's 2010 tour rider. While she no longer requires "bendy straws" (per her last tour), she's since developed an aversion to furniture with "busy patterns." More on Mimi's dressing room after the jump.
For her dressing room/living room backstage, Mariah requires carpeting, a temperature of 75 degrees, in addition to couches and "large comfortable chairs" that "should be a plain color, no busy patters; black, dark grey, cream, dark pink are all fine." She also requests "8 tall, leafy plants," "2 vases of white roses," and four vanilla scented candles. In her bathroom, she asks for a lamp or clip light "so that harsh lighting may be turned off."
As far as her food and beverage list goes, she no longer requests bottles of Cristal. Instead, she keeps it simple with three bottles of chilled chardonnay and a bottle of cabernet sauvignon. She also likes melon-flavored Gatorade and "clean ice."
I'd like to point out that Hello Kitty is not mentioned once in these documents.