Everything about Mariah Carey's current How Stella Got Her Groove Back moment with backup dancer Bryan Tanaka is a treasure: apparently when he first met the elusive chantuese, he was a "sweaty mess." The course of true love never did run smooth, it seems.
Tanaka recounts the fated moment his path first crossed with Mimi and it is everything you'd expect and much, much more. The two first met during a rehearsal; Tanaka was on stage dancing (because he is a dancer) and Mariah entered, presumably on a litter carried by shirtless men, but most likely by foot.
"Our first introduction was kind of a sweaty mess, because I was on stage sweating," he told Us Weekly. "She came out all looking gorgeous and everything. But it was great. We said, 'Hi,' real quick and we got back to work."

Apparently Tanaka felt a connection with Miss Carey from the minute they met and he's always "had a thing" for her. "Something connected with us back in the day, and there was just a mutual admiration," he said. "It was set in history that we were gonna be connected some way, somehow."
As you can see from these very romantical photos of the two romping on a beach in Hawaii, he's right.
G/O Media may get a commission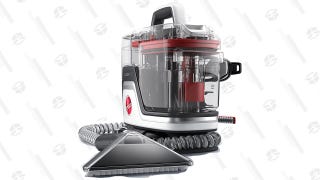 Save $10
Hoover CleanSlate Plus Carpet & Upholstery Cleaner
---
Well, would you look at that: apparently Kanye West's recent hosptilization might make it on to an upcoming season of Keeping Up with the Kardashians, as per a source that tells Entertainment Tonight that a few members of the family were filming scenes discussing the incident.
Interesting information indeed, given the fact that as per the source, Kanye isn't the biggest fan of being on the show and having all those cameras all up in everything. The footage isn't necessarily going to make it to air, either. Kim Kardashian is an executive producer and one would assume that she has some sort of final say in what does and doesn't make the cut. Given the fact that she's been hardly seen in public since both the robbery in October and Kanye's hospitalization, something tells me we'll never see that particular plot point on air.
Maybe they're keeping it for posterity. Maybe it'll be part of next year's holiday special. Who knows. For Kanye's sake, I kind of hope they keep it under wraps.
---