On paper I am inarguably average. 5'4", blonde (mostly, also unnaturally), size 12-14 depending on my yoga and champagne intake, blue allergen-prone eyes.
But I live in Dallas, Texas, and I happen to quite enjoy sifting all those average ingredients through the filter of our state's stereotypical pageant-farm aesthetic. Here, my frame reads as "thick", my blonde fuzzy waves are easily back-combed and curl-wanded into shapes I would artistically describe as sculptural. My preferred special occasion look falls somewhere around "Soap Opera Actress Leaving Set"; such preferences make my hometown a vain girl's playground.
When Jane sent me to a makeup counter with one request – to look Texan – I was delighted. Google search results for "Dallas" and "Dallas Women" led me down Sue Ellen Ewing and Dallas Cowboy Cheerleaders wormholes. The internet seems to favor 70s-era Dallas glamour and so do I.
It doesn't get more Dallas than Neiman Marcus, who women in this town have trusted since 1907; it is also the home of one of Tom Ford's top selling beauty counters. Launched in 2006 and grown to feature a full makeup, skincare and fragrance line; Ford is easily our most glamorous son. (Plus the other top-selling counter is in Houston, so Texas is buying. this. up.)
G/O Media may get a commission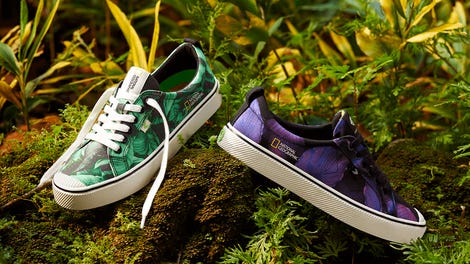 New New New
Cariuma + National Geographic
Tom Ford is out of my price range. It is out of almost everyone's price range, but the Texas trope is to go big or go home and if I go home there are no makeup artists or the softest makeup brushes you have ever, ever felt made from white horse and goat hair.
Eased into the chair, Pearl, the Tom Ford product specialist gets to work. I spit out the prescription and she starts collecting pallets. Bronze, tawny peaches, coppers, dusty pinks, dark eyeliner and all the face sculpting products I have ever dreamed of.She tells me that Dallas women, even those coming to explicitly get their makeup done by her, always arrive with makeup on. She mentions this after stripping my face of the BB cream, under eye concealer and eyebrow pencil I come in wearing. I sheepishly giggle.
When I confess to her that I can't afford these products, Pearl guides me through the splurge-worthy-if-you-only-buy-one-thing recommendations. The Brow Sculptor ($44), she shows off its calligraphy tip as she magically raises the arch of my brow. Pearl is also effusive about the Illuminating Primer ($74), the Traceless Foundation Stick ($80) and their liquid eyeliner Eye Defining Pen ($55), which I must admit is one the darkest shades of black pigment I've seen and feels amazing as it is applied. It feels cold on the lid.
As Pearl walks me through the product line she keeps referring to Mr. Ford, which really does the psychological trick of making me feel like he was in on this this whole undertaking.
Looking in the mirror I recognized some of those Texan images I found. Pearl has taught me to contour across my cheek from the center point of my jawbone and it really does focus the attention upward to my eyes.
A photo could not do my skin justice. I look juicy and plump. So much bronze, so much dusty pink, I do look like a more sophisticated version of the cheerleaders I was staring at earlier.
Pearl doesn't have the same insecurities about my face that I do, so she uses a lighter touch. She doesn't contour the width of my nose away. She doesn't use ALL THE MASCARA POSSIBLE IN ONE SITTING, especially on the bottom lashes which is a trick I think keeps my tiny almond eyes from disappearing into my head. My lips, that I have had to grow to love, are a glossy, reflective focus.
I buy the Brow Sculptor because I am a brow product hoarder and just a regular human lady unable to resist a calligraphy pen-tip. I am also already saving for a $215 bottle of perfume in their "Tobacco Vanille" fragrance. (Nerd tip: Go read the Tom Ford fragrance descriptions it is truly the sexiest product copy ever.)
If there is something signature to this look though, it is the bronzer. Some of it is her application, with a light hand Pearl buffs (not dusts) the areas of my face the sun would hit. But the heavy lifting is done with the product and now I have the new sad realization I don't in fact HATE shimmer products … I just haven't been spending enough money on them. The Tom Ford Bronzing Powder is $95 (and 21 grams! So it will last forever?) and I'd add it to Pearl's existing list of splurge items.
I take this look home instead of out. It's not quite what I imagined, more tawny then I expected and less lip. I also realize how important hair is to expressing something more essentially Texan.
My intent was to add a darker lip and pile on some mascara, put it through an additional more personal filter. But instead I just kind of stare at my juicier, dewier new Texas self.
Is it Texan? It seems like it but it's hard to pinpoint why. It's intentional? All femme, and it takes some work. Texas is all plains and sky; we have to build a lot of our beautiful things ourselves.
Previously: Expat Edition.
Jessica Roberts is a Dallas-based culture writer and wears make up, so she thought she'd write about that, too.

Photos by Andi Harman.
---